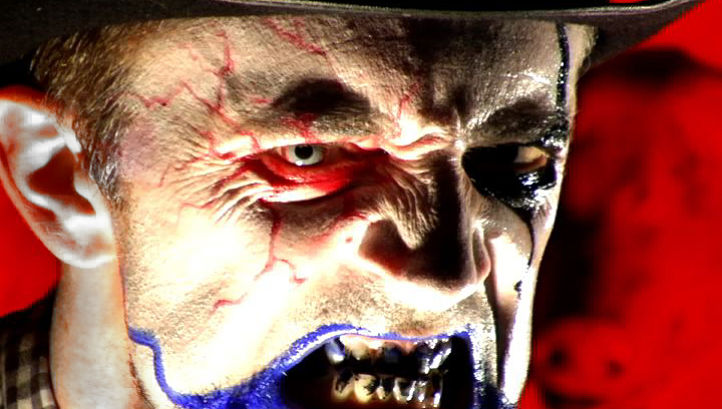 The last time Niteside lured Eggman away from the Monster Midway, Fright Nights' scare-crazed roustabout proved lucid and lurid need not be mutually exclusive. He also freaked everybody out. Two years later, despite continually recurring nightmares, we're daring even more. Why? Because Fright Nights is now freakier and funkier and scarier than ever, that's why. And because Eggman threatened to get us if we didn't get out the word.
Who the hell is Eggman? Eggman is the on-site troublemaker at Fright Nights. An ex-rodeo clown turned short order cook, he spends the night ALL OVER the event – in the lines, on the Midway and even in the haunts. He loves to scare and laugh at people.
What other kinda creatures are featured in his gang? Alongside Eggman is smart aleck Bradley P. Diddle, twisted clown Harry Gooch and tons of assorted freaks. We have zombies, dolls, ghosts, elves and many other creeps that will get a rise out of everybody.
How do all these ghouls fit into Fright Nights? The event has five haunted houses to keep all of these monsters busy: The Manor, Killshot, Carnival of Creeps, Santa's Workshop, and the Creature. Not to mention Zombie Paintball and chainsaw killers on the Midway.
Isn't this year supposed to be even scarier than ever? We always try to top our previous season when it comes to scares. This year's no exception. The entire Monster Midway is designated as a "scare zone " and now has been redesigned to fit the 13 thrill rides (that's twice the amount!) and extra haunts, each of which are jam-packed with scares.
Anything else people should prepare themselves for before they hit the Fairgrounds? We are also proud to present some live entertainment including dance troupes, live bands, pop lockers, street percussionists, and breakdancers. Entrance and parking is now located off of Fairgrounds Road and Gate 8.
Fright Nights runs Thursdays through Saturdays, beginning Oct. 11, at the South Florida Fairgrounds. For more information log on here.