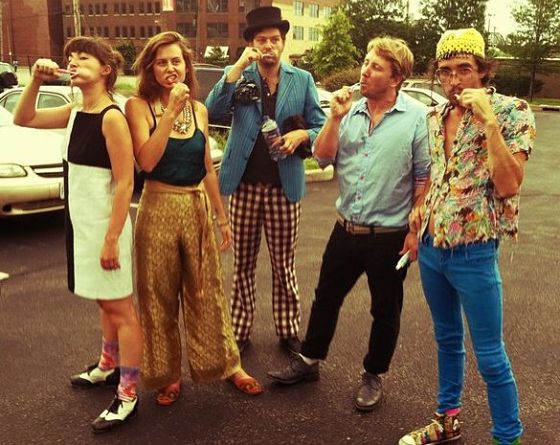 They're more fun than a barrel of drunken monkeys. They're more powerful than a throwback locomotive. If dared, they'll leap tall buildings in a single bound -- and turn 'em into astounding old towns. They are a sibling-led quintet called He's My Brother She's My Sister and their deeply-rooted sound reaches all the way back to right now. Niteside asked Brother Rob and Sister Rachel to fill us in before showing us how at The Vagabond this Friday night.

If you had to sum up HMBSMS's sound in a single sentence, what would it be? Brother: Take an alleyway jugband, some ex-circus performers, drag 'em through the swamps of Louisiana and up through the California coast, sprinkle a little English glam on top, throw it into a psychedelic blender and let it swirl around for a while. Sister: Glam-a-billy-psych-blues

How about the band's sensibility? Brother: I think it's generally intuitive. We like surprises and we like blending sounds and genres to create something we hope is otherworldly. Sister: We strive to embody both the light and dark of things. Whether it be sonically or lyrically, the juxtaposition, the yin and yang of life is what we like to explore.

And vision? Brother: To bring a memorable experience to a setting. To take people into another realm with dancing or listening. Using the music as a sort of portal to a good time. Sister: Grass roots and at the same time glamorous. We want to maintain a sense of simplicity to what we do while keeping it fresh and exciting and surreal.

Combined, what do we get? Sister: A rhinestone cowboy.

Could that be what made you a favorite of hitchhikers? Brother: Possibly. We feel like hitchhikers at times. I guess nomads is a better term as we do have a van. Sister: Definitely. They're free dreamers. That's the idea behind our music.

Do you recommend everyone hitch a ride to Friday night's show? Brother: Absolutely. There is always a way. Friday is gonna be one hell of a show. Sister: I recommend a bike ride.

He's My Brother She's My Sister perform Friday May 11 at The Vagabond. For more information log on here.