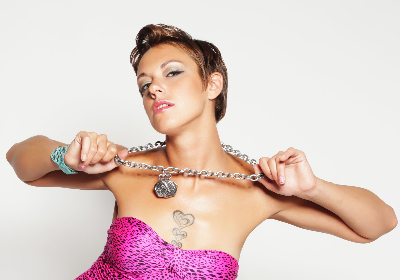 Kaaren Styles is the primary mind behind Automatic Slims' SINful Wednesday where a bevy of with-it locals and lucky out-of-towners gather weekly. Niteside decided to give her the ol' Q&A.
You're the primary mind behind Automatic Slims' SINful Wednesdays. What's that all about? I would say I am the face behind the night, but it is definitely a collective behind the concept. I was introduced by DJAV3 to the owners in July and ideas just started flowing about a new night for locals. The SIN in SINful stands for Service Industry Night, which addresses the majority of the people who work and live in South Beach. And I have a nice base of friends who were getting tired of the same old spots. Slims is has such a unique setting and has a lot of personality. I could immediately picture the party people I know hanging out there. It's comfortable for everyone, not lame, not too much, it's just right. I love that there is no dress code, but I can show up in my BCBG dress and stilettos and feel comfortable. Sometimes I show up in costume just for the fun of it! I like to have variety and obscurity at my events.

Who handles SINful's soundtrack? DJAV3 and my homegirl DJ Elle. I had seen them both spin before so I was excited to work on a night together. It might not be what you're used to seeing with them, but we're trying to keep the music as diverse as possible. We don't want to do anything too commercial, but you will hear tons of songs you know and love. It's primarily new school and old school hip hop, electro and soulful house, and what I call alterna-pop such as Santogold or The White Stripes. They really try to do something different every week. Plus they bring in guest DJs like Keen One, Aliyo, Daai Lo, Mike Kruz, K-Razer, Immortal -- a bunch of super talented local guys. And, of course, you have me on the mic giving shout-outs and making jokes. That's my favorite part of the job.

Is this all part of your company naKOut's productions? Yes, every event I do I brand with naKOut. The name is a play off my friends company up north Nakturnal. They gave me the funds to start in Miami, but I refused to use their name because I just knew everyone would immediately think Nocturnal Nightclub. So I came up with naKOut, which is rather smart if I do say so myself. It is a mesh of parties I throw and events I am involved with. In 2009 I produced the Miami Beach Tattoo Expo After-Parties at Heathrow, Cameo and Love Hate. I produced a fashion show for Eva Danielle. I have also involved the brand with events I have styled hair for through MOD Media and House of Jackie Brown. But for now I am focusing on this weekly event, but I have a ton of ideas I want to make happen in the future.

You're also involved with something called Model Mayhem. Wanna fill us in? There are two sides to that. I got into the website because I have been building a career as a hair stylist. MM is a great way to network with models, photographers, stylists and other artists. Plus I can put my portfolio there kind of like a MySpace page but very concentrated in the beauty industry. Now I also have started a page for modeling. I always say, "I'm not a model; I just play one in front of the camera." OTB Photography started shooting my tattoos years ago and it has spun out of control. Just kidding, but he taught me to be comfortable and just do it. We even did a BP Protest photo shoot where I wore nothing but boots, a thong and pasties on Washington Avenue. Facts about the spill were painted all over me. It was insane, but at the same time we were doing something productive. I am all about giving back but having fun while doing it.

Don't you handle hair at Dee & Co Hair Studio too? Yes, I have been given the title of Hair Designer at Dee & Co. I specialize in braiding styles, dreadlocks, sew-in extensions and up-dos. I like the design aspect of styling hair, and I absolutely love working on photo shoots and fashion shows. I do a lot of freelance work but working with Dee and her team is amazing, truly a blessing in my life. They're educated artists, not just stylists. I know I will learn a lot there.

What do you think makes for great style anyway? Confidence and originality. Your style should really represent how you feel and what you like. And if you feel good you will walk around owning your look. That translates usually. I can't stand cookie-cutter groups of girls, even if that's what the magazines say is hot. It's just boring when you all look the same. But knowing how to dress yourself is extremely important. Not every body type looks good in the same thing and not every color looks good on you. Knowing those basics, and a little creativity, should keep you looking stylish all the time.

How 'bout for a great night out on the town? In my opinion, regardless of what you clothe yourself with, a good pair of sexy high heels and the right flashy accessories is all you need for a night out. I have a super old tight, white T that I wear with simple skinny jeans, funky heels, big earrings, chain necklace and a flashy clutch. ... Bam! I am ready to go. The cool thing about Miami, as a woman, is you can rock almost anything. For guys I think it kind of sucks. They don't have as much freedom with their style because of dress codes.

Speaking of which, when you're not on a shoot or hosting a shindig, where do you most dig hanging out? Guess you could say I've become a bar girl. I did all the clubs for years, and I'm kind of over that scene. Lounges aren't really my thing because I don't like standing around, but it can be good to network. Ultimately, I Iike to go where I can dance and socialize. I used to do casting for [reality show] "Miami Ink," so I've been going to Love Hate since day one! It has the best hip-hop DJs in Miami for sure and I feel completely uncensored there. I love checking out the local music scene, too.

What's coming up for Kaaren Styles? I have no clue just that I'm going forward from here. I'm doing what I love, and that's all that matters right now. I trust my future will be full of excitement and success.