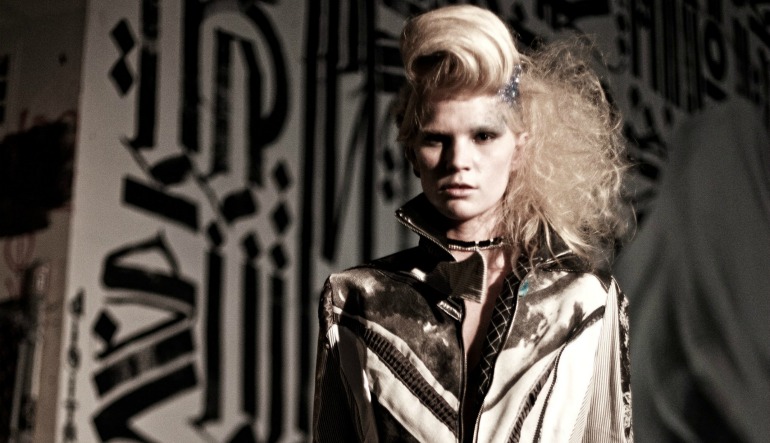 It's been a few hot minutes since Kayce Armstrong fought it out to the front of Style Wars, but between the magic she made on Bravo's Make Me a Supermodel and the Designer's Choice Award she received at 2011's Miami Beach International Fashion Week, each and every one of those minutes has been hotter than the last. This year the wily woman that is Art of Shade will be wowing 'em at Fashion Week with a line called Evolve. Niteside couldn't resist a quick preview.

Can you please tell us a quick bit about Art of Shade's latest line? Art of Shade's latest line "EVOLVE" is a limited collection of Ready To Wear made from recycled and re-purposed elements. The designs draw their inspiration from maritime iconography by blending hard-edged industry with lofty sails.

How will that play out for Fashion Week? Art of Shade's high energy show will have Fashion Week buzzing, with fresh new music, fresh new faces and an amazing new collection, we are sure to take the Miami Style Showcase runway by storm!

This won't be your first Fashion Week rodeo, will it? Nope, as newbies at last years' Fashion Week, we made a huge splash at the emerging designer's showcase!

Didn't that slash earn you some kinda special designation? It sure did! Art of Shade took home the overall Designer's Choice Award, the highest honor at Fashion Week.

Where will fashion fans be able to pick up some of their own AoS? Art of Shade and AOS can be found at the Shade Post in Hollywood, FLA and online at our site. Look for us coming soon at high end retailers near you!

Art of Shade unveils Evolve Wednesday 3/21,9pm at the Miami Beach Convention Center for Miami Beach International Fashion Week. For more information log on here.