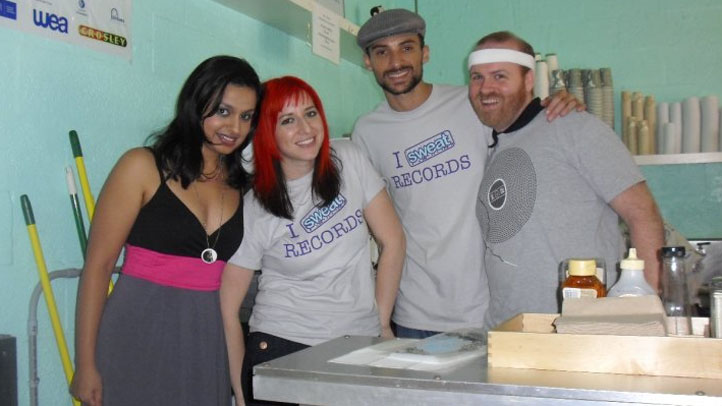 To the rest of the wild world, Saturday April 16 is simply Record Store Day. The rest of the world, however, doesn't have Sweat Records. If they did, they'd be celebrating the holiday with a blowout called Sweatstock. Since some slimeballs busted into our beloved institution last Sunday and stole away with some valuable essentials, the store could use even more of our support. So this Saturday let's show Lolo and Jsin just how grateful we all are.

This Saturday is Record Store Day, for the few who may not know, could you please tell us a bit about it? This year is the fourth Record Store Day and there are over 300 exclusive releases coming out that only truly independent music stores can order. Stores are celebrating all over the world with sales, parties, and live performances.

Sweat's got their own unique way of celebrating the holiday, doesn't it? Care to share the deets? This year will be our second SWEATSTOCK block party/festival. We're celebrating RSD as well as the store's sixth anniversary. This year we've got four stages with over 30 musical acts: we close down the lot next to our store to erect a street stage, there are DJs inside Sweat all day, the main stage at Churchill's, and Roofless Records is curating the patio stage. We've also got food trucks, the Borscht Music Video Showcase, Morphologic projections, comedians from our monthly Casa De Ha-Ha stand-up night, giveaways from FriendsWithYou and the Fillmore, free Heineken for the early attenders, a limited edition Shady Teez shirt for the day, a very special O, Miami poetry surprise and of course, cupcakes.

Of all the special international releases coming out coincident with RSD, which are you most looking forward to hearing? Unfortunately, most of the RSD UK/international releases are so limited that it's nearly impossible for the American stores to get them. If we're talking international artists, I might have to grab myself a Daft Punk "Tron Translucence" picture disc to add to my collection.

What about national releases? I cannot wait to see Third Man Records' Karen Elson 7" that's made of clear vinyl with actual peach rose petals embedded inside! They always seem to outdo themselves... The Flaming Lips vinyl box looks juicy, too.

I expect there are a few cool local releases as well, no? Radio-Active in Fort Lauderdale are putting out a limited Axe And The Oak 7". They're hands-down one of the best bands in South Florida, so we'll definitely be stocking those.

If you had to sum up Record Store Day in a single sentence what would it be? It's a day to support the breathing, pulsing hub of culture that is your local independent record store and revel in the tactile, sensuous, physical incarnation of music.

What about Sweatstock? Sweatstock is a day for Miamians to be proud of just how far we've come culturally and as a community.

Before we go, is there any other Sweat news that we need to know about? We've only just begun.
Sweatstock takes place Saturday April 16 from 10 a.m.-3 a.m. at 5505 NE 2nd Avenue. Among those appearing are DJs Induce, Mike Deuce, Juan Basshead, Contra and Tom Laroc; Panic Bomber, The State of, Entresol (Street Stage); Furious Duides, The Getback and Rebel (Churchill's); Rat Bastard, Slashpine and Nagshead (Patio Stage). For more information call 786-693-9309 or log on here.