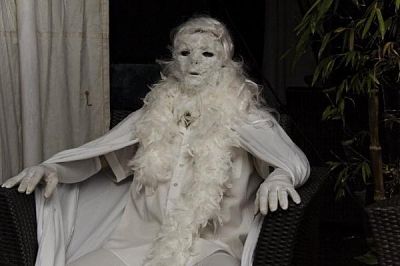 The cool kids know that Second Saturdays end in the wilds west of Wynwood, at Awarehouse, where the mad merge of sound and vision is always something outta this world. This Second Saturday will be all that and then some. Why? Because the one and only Mr. Feathers is bringing his galactic racket to the stage, that's why. Niteside couldn't resist a quick get with.

First, we've gotta ask: Did your name come from an Elvis Costello song? No, I know what your talking about though. I see it every time I go to look up something about myself on Google. It was originally Peasants With Feathers (poor people with the hope of rising to the top or fame and or fortune), but then was shortened to just Mr. Feathers.

But you've been making a racket for much of your life, right? Yes, I have been spinning and making music almost all my life, you can ask my parents. They used to tell me to stop making all that noise. I remember them telling me that it wouldn't get me anywhere. Wow, were they wrong! I'm actually playing a live set this upcoming Art Walk on June 11 at Awarehouse. So there!

Don't you also accompany the infamous Otto Von Schirach when he performs? Indeed, I am one of Otto's original performers.

How'd that all come about? I was listening to his performance years ago and went straight up to him and asked him if I could get dressed up and perform with him. I didn't know that before me there had been someone dressed as a clown, which I think was Romulo's Uncle. So, at the next show, at the Piccadilly Garden, I got in camouflage pajamas and waved around a giant Number 2 pencil. This have changed a lot since then.

Word is you've now got your own album out too. Wanna tell us a bit about it? I do have a new album out digitally everywhere. It's called Galactic Trinity and it's on Triangle Earth, a label started by Otto Von Schirach himself. Otto and I did some vocals on some of the tracks and made the rest of the sounds.

Will you be performing all of this at Awarehouse on Saturday night? You know it, straight up gansta vomitarium. Little bit of Galactic Trinity, mixed with Miami Bass and alien juice.

Your show is gonna consist of much more than sounds though, no? I'm having Black Barbie do visuals that night. She also has worked for Otto in the past. This should be a real treat for the 1986 raver kids who pass by with their Texas Instruments.

If you had to sum up Saturday night's spectacle in a single sentence, what would it be? This Saturday could be your Happiest Holiday ever!

Before we go, can you please tell us: Is your heart really made from laser beams? My heart really is made of laser beams you can ask anyone who has ever looked me in the eyes.
Mr. Feathers performs live Saturday June 11 at Awarehouse 550 NW 29th Street West of Wynwood Also on the bill are Axiom, Kirkjon, Askultura, Duncan Ross, organicArma, Operation Human Mind Expansion, Ydiz & Chuckles, Beatmachines and Dusthead. Doors open at 10pm. For more information log on here.