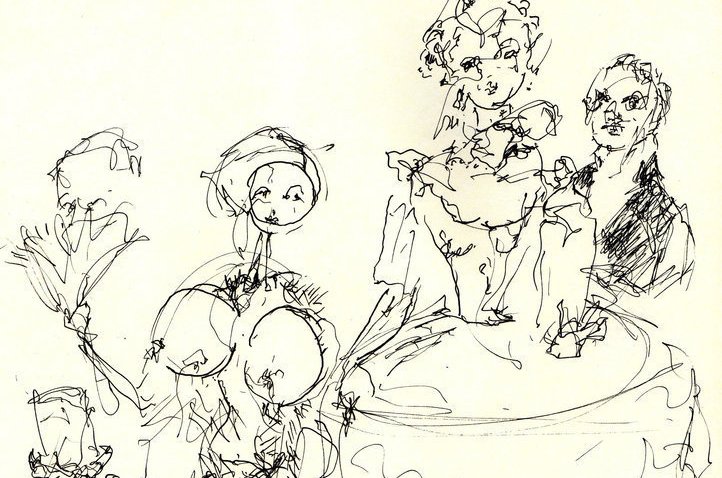 What do you get when you cross excerpts from the sketchbooks of one of the MIA's most accomplished artists with the surround-scening of the heavenly HaVen? An immersion that takes you to a whole 'nother realm. That's the bright idea behind Rollin Stirman's reality-shifting "Opening the Book", which goes down this Wednesday at South Beach's one-and-only Digitial Hi-Fi Lounge. Considering the exhibit includes images of some of Miami's most notorious cats and kittens, it's a cinch the gathering will be one for the, er, books. Zeus-willing, it'll be one for Stirman's sketchbooks too.
What's the, er, story behind "Opening the Book"? One of my defining features as an artist (which some would claim is more like an obsession) is the constant presence of my sketchbook. I devotionally record as many moments as I possibly can, every single day. Inspiration can hit at any time so I take it everywhere, just in case.
There aren't many gallery spaces that are interested in doing a show of books though -- especially ones that aren't for sale. They were always interested in my larger framed works. But the interior of HaVen creates such an extraordinary multi-sensory experience for their patrons, that, as an artist my mind raced with the endless possibilities of the combination of technology. Here the space becomes a vehicle and through the experience of complete immersion, a person can be transported to another place and time or be transformed to another scale of existence, thereby entering an altered reality.
I chose the title "Opening the Book" for the exhibition because I am offering you an invitation into my world, a world that usually only I enter every time I open the book. And I am happy to have the opportunity to share this process.
Who are some of the luminaries that you've included in the show? A number of musicians and DJs, including Luis Vega and his wife Annae (who over the years have acquired about eight of my pieces for their private collection), Nicole Chirino, DJ Earthquake, DJ Craze, DJ Le Spam/Spam Allstars, and The Gladezmen (who I caught recently at Will Call -- great show). You'll also see portraits of Austrailian cabaret sensation Meow Meow, Rosie Herrera Dance Theater (I have included drawings from Dining Alone, Pity Party and The Donkey Show), as well as the Back Door Bamby production team and Wild Child. These are some of my favorite groups of performers, and they have inspired a number of drawings over the years. You'll also see portraits of artist Pablo Cano (with his musical marionettes) and sculptor/installation artist Nicole Soden.
What is it that compels you to capture such folk in the first place? There is an inherent sensuality in all of life. It is through my work that I am able to record or rather transcribe the beauty that I see in every moment -- through every line that I make and every brush stroke within my compositions. I am inspired by the human form and the chemistry that arises amid the interaction of bodies. It propels my work.
Rollin Stirman "Opening the Book"takes place Wednesday August 15, 8pm at HaVen Lounge 1237 Lincoln Road South Beach.