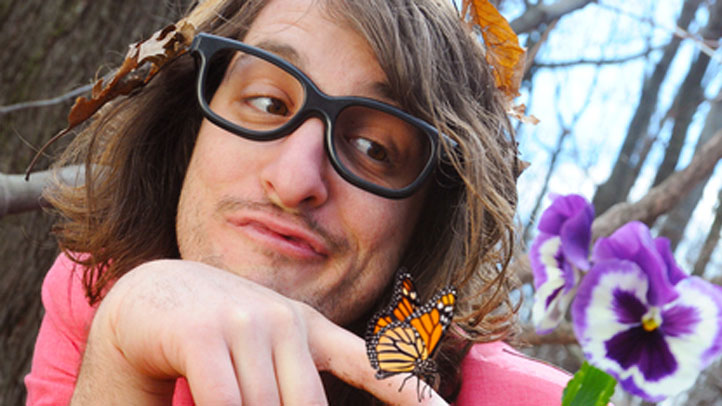 Of the many many millions who were inspired by Obama's run for the White House, very few were as proliferate as imagist Ryan Paul Simmons, whose "Barock the Vote" effort went from border-to-border and coast-to-coast almost as much as the candidate himself. On Friday night the South Florida-born artist is celebrating his Earth Day birthday at Trio on the Bay, so Niteside decided to investigate.

For the few folks who don't know about Ryan Paul Simmons, can you tell us a bit about yourself? I am a visionary with an out of the box approach toward life. When I pause my thought process it splits into multiple roads of ideas I could take. I combine key elements from each road, grab a brush and some paint and unleash the collaboration.

You made quite a name for yourself during Obama's run for the White House. How'd that all come about? Obama's committee asked me if I'd assist them with artwork for campaigning. I respectfully declined until I heard Barack's first address to the nation. I wanted America to rock the vote while boldly showcasing the president-elect literally as a colored man. The deliverance of the message had to be in your face in order to work. We as people have always had race issues and I wanted to put a stop to them since color shouldn't be a factor when selecting an individual for anything.

How many cities did you visit with Barock the Vote? I first started painting Barack at the Obama Headquarters in Fort Lauderdale, FL. I was so committed to the piece I couldn't find the time to voice the importance of voting, especially to the younger crowd. That's when I decided I would go against my main rule and allow other people to watch me paint. I painted live at rallies throughout Florida while people like Al Gore, Hillary Clinton and Matt Damon spoke and soon found myself painting throughout every major city in the United States. After 584 hours of live painting, "Barock the Vote" was complete.

Now you're coming back to the MIA, this time to celebrate Earth Day. Care to share the details? My 'Earth Day Birthday' is all about the birth and celebration of Mother Earth combined with my 30th birthday. I invite everyone to attend on April 22nd at Trio on the Bay in Miami from 10 p.m. to 5 a.m. You can do your part to save the earth and carpool.

Is this linked to Charity Buzz? Yes, the party's roots stem from my auction with Bette Midler on Charitybuzz for Earth Day to benefit the New York Restoration Project. Win the auction to commission me to paint a custom 4' by 6' painting and receive a personal thank you note from the Divine Miss M!

How did you get hooked-up with Trio on the Bay? If you want an amazing party you have to go to the best in the business and that's Gerry Kelly! He's been throwing my birthday parties for years and truly makes magic happen!

Will you be doing any other events while you're in town? No, my return to Miami is strictly geared towards the party and not driving and polluting the earth. I'm dedicating two days to cleaning up the beaches with friends and family and the rest of the time enjoying the perks of Mother Nature. I'm also gearing up for Art Basel 2011 where I will be unveiling my newest works.

What else do we need to know about RPS before we go-go? I can recreate anything from nothing, my sense of style and desperation for attention and my crossing-the-line humor isn't an act at all. It's what I require in order to cope in society. Try balancing my thoughts for five mins and I'll bet my life on you being committed to a happy house. That is if you don't jump off a building first.

Ryan Paul Simmons' Earth Day Birthday Celebration takes place Friday April 22, from 10 p.m.-5 a.m. at Trio on the Bay, 1601 79th Street Causeway, North Bay Village. For more information call 305.866.1234 or log on here.