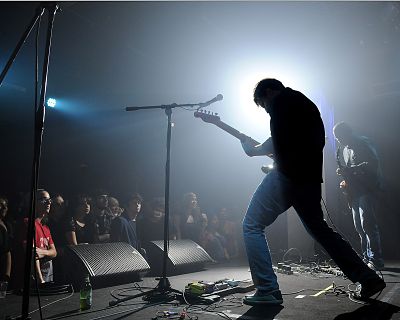 They're meaty, beaty, big and bouncy, and they've earned just about every Best in town. They're pre, they're post, and they're right this minute. They're Space Between Words, and this week they're helping their Buddies at The Stage and debauching with Radioboxer at Bardot.

For those who don't know, who (and what) is Space Between Words? It's the resonating noise that beckons you to lose control; to question the meaning and truth behind the things people say and do. We are the four-piece suit that wants you to scream and wildly dance amid our '70s psychedelic guitars and polyrhythms.

You've just released a third video from your debut LP And We All Follow The Sun -- wanna tell us about it? We really enjoy making music videos, because it gives us the opportunity to demonstrate our other facets as a band. This project in particular was exceptionally fun to do, because unlike our previous videos, which were written, directed and edited on our own, for "Things Children Do" we actually partnered up with our friends Jota Dazza, of Radioboxer, Aless Nicolaci and Mario Arango. Jota and Aless shot and edited the video. Mario donated Grand Central's loft and visual equipment for the entirety of the shoot. He also helped us get the most out of the venue's unique features. Jota and I had been talking for sometime about working on a video together. We came up with this approach at capturing the jangling 70's sound of the single and the psychedelic roots of the band by playfully projecting and synchronizing surreal imagery.

Won't you be releasing a special edition of the album as well? The video comes out on the one year anniversary of And We All Follow the Sun's release. To celebrate, we're putting out a special limited edition vinyl of the album at the end of the month. It will be remastered and have some trippy variant artwork. People can purchase it on our website and through local South Florida vendors. Just like the the CD, part of the proceeds from sales will be donated to the DNA (Demi and Ashton Foundation), Best Buddies and local youth music initiatives.

There's also an onslaught of live shows, right? It seems there has been an endless onslaught of shows and events from us across the US since SXSW earlier this year. We just finished a small four show run up the Florida coast ito promote for the music video and vinyl record release. This Thursday we are participating in a great fundraising event for Best Buddies at The Stage. Doors open at 9 pm and there will be an open bar with Grey Goose, food trucks and some fun entertainment all night long. Bardot asked us to team up with our brothers in arms Radioboxer to throw the venue's Halloween event this Saturday. We decided to do a sexy Venetian Masquerade, befitting to the venue's mystique. I think we're going for something out of Eyes Wide Shut. Both bands are known for an exhilarating show and so what better weekend to throw this evening of debauchery.