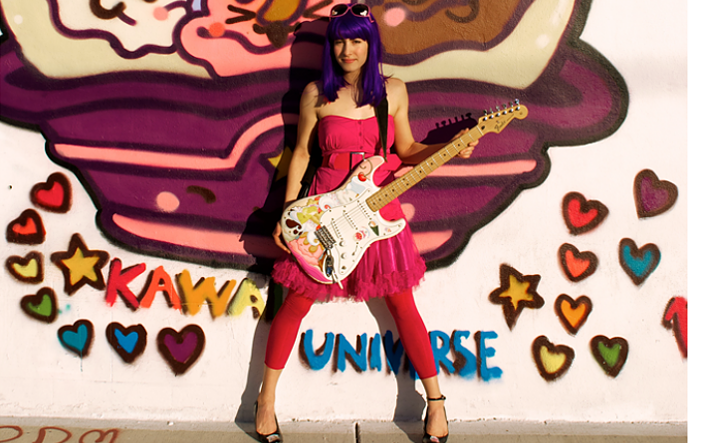 Of all the color that teams throughout the 'hood known as Wynwood, perhaps none is more vibrant or more playful than that which can be found in Kawaii Universe. Filled with the whimsical work of one Valentina, Kawaii Universe is nothing short of a galaxy all its own. This Saturday V (and the trusty Monserrattz) will be hosting a family-friendly throwdown for the good folks of S.T.A.R.S. School for Autism and helping to ensure even further learning the bright way. Get kaleidoscopic!

For those who don't (yet) know, what's Kawaii Universe? "Kawaii" actually means cute in Japanese and "Universe" refers to an organic, energetic and ever-expanding context for "cute". Kawaii Universe is award-winning, original, cute pop art design by me, Valentina, and it can be found online or in our eponymous studio and shop in Wynwood.

Why'd you decide to open such a colorful place? Kawaii Universe was mainly known via the Internet. I wanted to experience that same connection and energy in real life, so after having spent the past two-and-a-half years setting-up and breaking down almost one event every week or weekend -- starting with my first event Animation Supercon, which is now known as SuperCon to major Cons like MegaCon/Orlando, WizardWorld Miami, and mini-Cons like Hatsume Fair at the Morikami Museum, and so many, many events in between -- we wanted a place where people could experience hundreds of designs of both large scale and small scale cute, whenever they would like!

Wynwood seems like the perfect place to set up such a shop -- how long have you been in the 'hood (and how's it treating you)? Wynwood is all about discovering something you would not expect, but you have to be open to it; Wynwood is always remixing itself physically and energetically! It is amazing how the place unfolds and things have really changed. We've been here for over one year now. How is it treating us? Subjectively! :)

Now that's cleared up, what's going down this Saturday? Kawaii Universe Studio & Shop is presenting a FUN-draising day for S.T.A.R.S School for Autism (rain or shine) from 11am to 6pm. It'll be a family fun-filled day of art, music, and delicious goodies! A generous portion of the proceeds will be donated to S.T.A.R.S and benefitting the new school soon to open on Coral Way.

Will this be the first time KU come through for this particular cause? This is our second collaboration with S.T.A.R.S. School for Autism. Last month, April 21 was pretty rainy and even though we still had a super good turnout, we all decided to roll around and do it again this coming Saturday! It will be an ongoing and evolving collaboration with S.T.A.R.S, since my Kawaii designs will be incorporated into their art therapy curriculum and decor.

How'd Kawaii get hooked up with S.T.A.R.S. anyway? An energetic, smiling woman walked up to my vinyl sticker showcase installation at Kawaii Universe Studio during Art Basel 2011. Turns out I had met one of her friends during my pop-up show at the Lowe Art Museum and it took off from there.

Anything else we should know about Kawaii Universe before you go-go? Kawaii Universe Art Studio & Shop is located in the heart of Wynwood Arts District right across the street from our wonderful neighbors, Panther Coffee. You can stop by Kawaii Universe during the week, and on weekends too, in the afternoons, for a "cute" fix from a large assortment of my handmade vinyl stickers, custom fine art prints and installations and the occasional "Kawaii Couture Glitter Tattoos" session along with more lifestyle accessories like custom skins for bikes, skateboards and instruments, to name a few!

Kawaii Universe sees S.T.A.R.S. Saturday May 19, Noon-6pm. 2405 NW 2nd Ave Wynwood. For more information log on here.