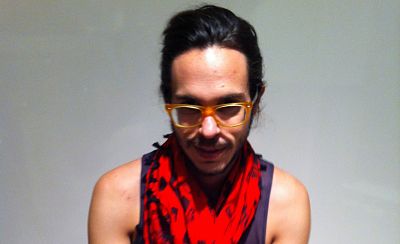 To say the name Yuri Tuma has become ubiquitous with Wynwood might overstate things a bit, but not by much. For the past two months, patrons of the buzzing Panther Coffee were surrounded by works culled from his Roofless series, and each and every year, like proverbial clockwork the vivid visualist unveils a new set of awesome at his homebase Butter Gallery. This Thursday (and of course Second Saturday), the man behind the exquisite mirrorings will take us to Metropolis. You can bet this will be a place that will blow your mind.

Wanna tell us a quick bit about Metropolis? To change a perspective of a Metropolis is to change the way we see it. The designs formed from these images come from textures provided by various metropolises, through glass, colors and reflection! I wanted to present a different way to perceive city-like structures.

Does the show have any thematic parallels to the same-named flick and/or magazine? Consciously it does not! But I can't deny my subconscious of some credit! The name actually came about through a conversation I was having with my gallerist, [Butter's] Francisco de la Torre. The photos in this show are derived from textures provided by different major cities such as New York, Miami, Barcelona and Paris, so it immediately made sense to call it as such.

What about the city where Superman is set? Well, last time I was there they wouldn't allow me to take any photos, due to the very competitive Photo Journalism industry. I would have loved to have included some of its prime and unique architecture in the show.

Speaking of cities, you just returned from Taipei. What was that all about? I will be showing at the Shanghai Art Fair 2011, so I went to Asia in order to produce the pieces and coordinate with my representative there, curator Inez Suen, who is also the director for the International Chinese Fine Arts Council, based in Miami and New York. Right after Shanghai, I went to visit Taipei during their Art Fair "Art Taipei" and explore its opportunities. Besides work and art, this trip was very much about exploring the world and growing as a person and as an artist, or shall I say "mind expansion"!

Did you happen to find inspiration in Taiwan's fabled metropolis? Taipei was an inspiration everyday! I mean artistically and personally! The culture and way of life there was very much about respect and sharing. It was very refreshing to be in a city in which at any point I saw signs of violence, rudeness or negativity. Artistically speaking, Taipei is a cosmopolitan city in the middle of the tropics and mountain ranges! As you know from my work, architecture and nature have been the two main physical inspirations and tools for my art, so you can say I was in a very good place while there.

How does Taipei compare aesthetically to your native Sao Paolo? It has been over a decade since I visit my hometown! It would be hard to pinpoint the similarities between both cities. What I can say though, is that I felt very nostalgic there! I think some of the suburban architecture and street landscapes reminded me of my childhood!

What about as compared to the MIA? The biggest similarity between Taipei and Miami is the heat this time of the year!

Could you see yourself trading Miami for Taipei? For the time being, no! If ever an opportunity comes up to move to Taipei temporarily I would most definitely consider it! It is a city filled with opportunities for foreigners.

What is it about Miami that's made it your main metropolis anyway? I have been in Miami long enough to consider it home! Miami is a city that provides me with space and time to develop and explore my art, unlike other bigger cities in which you just get sucked into the chaos! The open skies, the ocean and the relaxed atmosphere allows me to choose when to turn "my chaos" on and off!

Yuri Tuma's Metropolis opens Thursday September 8, 7pm at Butter Gallery 2301 NW 2nd Avenue Wynwood.