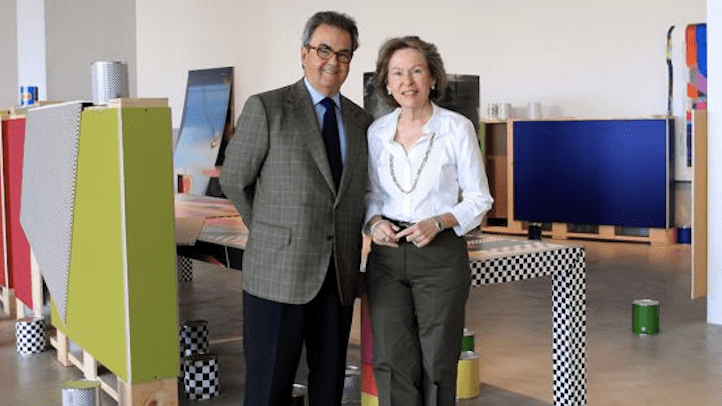 Before opening up their
Design District
space, Carlos and Rosa de la Cruz spent years inviting a select few to their Key Biscayne house to admire works from their extensive art collection.
For the third year, they will be opening their contemporary collection to the public during
Art Basel Miami Beach
this week. Every turn or step taken in the 27,000 square foot exhibition space reveals another glimpse of powerful creations thoughtfully curated.
The couple is involved deeply in the intellectual aspects of the scene. They are fully informed on their tastes and what they feel is worth supporting.
"We both sort of have our own way of approaching art," Rosa de la Cruz said.
But Carlos de la Cruz favors paintings while she prefers projects and performance art.
"It does work well for both of us," she said.
They seldom show many paintings, but this year on the ground floor, they're presenting a salon style installation. She pointed out, "Your first approach is color and [then] pattern and then the third one would be the individual works it starts disclosing. Because they're artists that people recognize."
Their downstairs project room is reserved for Miami artists.
"The project room is really open to new ideas," she said.
Rosa de la Cruz chose Funner Projects to occupy the space during this Art Basel.
"The first time I saw Justin Long and Robert Lorie's Maintain Right, the work, it was in a YouTube video. They were practicing. I thought it was fascinating this idea that it was a game but at the same time involved an aggression," she said.
She was impressed by the number of references to other artists she recognized in the work.
"It also references the work of Anish Kapoor when he did the performance at the Royal Academy of London." This involved a cannon spewing red paint on a white wall, while Long and Lorie will present a massive shooting crossbow. " Usually for Basel, we want a performance, something that people can really get enthusiastic about."
The second floor offers a peek into the larger world. Cuban blogger Yoani Sanchez offers the world a glimpse into life in Cuba.
"We're giving her a space here because the only place she can express herself is through the internet... Art is political," Rosa de la Cruz said.
Carlos de la Cruz said of the writer Sanchez, one of Time Magazine's people of the year, "She alternates between irony and sarcasm and it's just every blog you end up laughing because she pokes fun of the government and makes curious connections between circumstances and shows the impact on the average citizen." A new way of expression, the Internet and its many social networks have also facilitated the freedom of not only Sanchez' voice but of revolutionary movements around the world, she said.
The third floor permanently displays work by Ana Mendieta, Felix Gonzalez-Torres and Jim Hodges. The de la Cruzes remain close friends with Hodges and Gonzalez-Torres before he passed away.
"Mendieta is an artist of Cuban origin like we are and her work deals with this idea of the ritual to heal wounds that she had as an exile." Rosa de la Cruz said. As exiles themselves, they relate closely with the work. For Art Basel, the photos and sculpture of Mexican artist Gabriel Orozco, who she believes fits in well with the other work which addresses, "Nature through the human body."
But what about art lovers who don't have deep pockets? Rosa de la Cruz believes it's possible to collect on a tight budget.
Her advise is: "Do your homework. You have to know what you're doing. Knowledge is power."
Her husband also had a tip.
"It's a visual experience," he said. "Usually the work that you like immediately, the knee jerk reaction, is work that is similar to work that you've either seen in pictures before or museums, if you go to museums. So you recognize it, and you say, 'ha!' or maybe you don't know what it looks like. But your mind knows that it looks like something else."
They also suggest working with galleries. Not living in New York or Los Angeles offers some challenges to collecting, but they have an advisor who keeps them in the loop and offers them dialogue. Rosa de la Cruz thinks that what Funner Projects is making is important in that it references other works and the team has shown consistency.
Education is important to them too. The space, Rosa believes, is nothing without the educational component. They have a scholarship program with the
John S. and James L. Knight Foundation
which has given $70,000 in scholarships to students from
, bringing them overseas, exposing them to the Venice Biennial and other arts communities. They also bring students to the space to teach them about art, form, and content.
The de la Cruzes help Miami artists to travel, too. All this creates a deepening in the arts community locally.
"That is the only thing that will create a structure in Miami. Through education," she said.