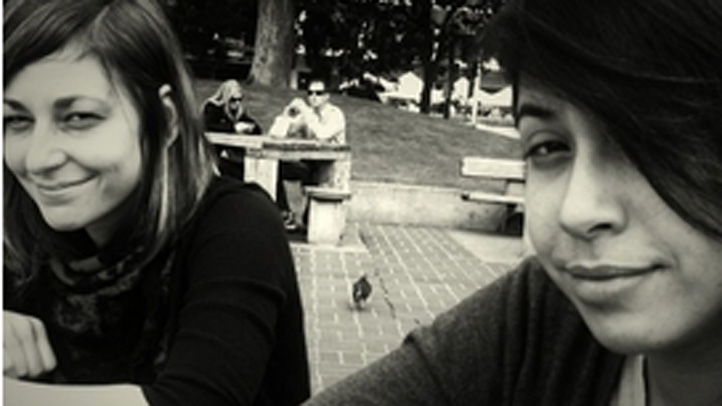 Steph Taylor and Nabedi Osorio first played music together when they were 17 years old. For the past four years they've been performing as State of, and according to Osorio, "it was magic from the beginning."
The combination of Taylor's piano, guitar, synth, and vocals with Osorio's percussion make for some serious sounds. Osorio said of their indie duo: "Sonically, we sound like a four piece band."
She continued, "We write really strong music. "It's not the folky singer-songwriter stuff people expect from ladies. "The minute that we start, we'll blow you away, it's just like a big dance party."
They performed Thursday night at Sweat Records, Miami's independent record store, which Taylor believes is the hub of the South Florida music, arts, and cultural scene. She praised owner Lauren "Lolo" Reskin.
"The way in which she supports her community, everybody wants to throw it back in there," she said.
Taylor, a songwriter, has performed mostly as a solo artist while Nabedi has played with such Miami bands as Suenalo, Afrobeta, and punk rock band AKA, among many others. Together, they collaborate on writing all original music.
"The first several years as a band, we toured for like seven months out of the year." Taylor noted.
They've been staying local recently, trying to participate in all the things they feel they've missed out on while touring and to work on a new album. Playing at home in Miami has its perks.
"Now that we're here, we see that the buzz has been growing. Our name is out there, and it makes us proud," Osorio said. They're both Miami born and bred and though they have a fan base around the country, she continued, "this is where we're from, and we really want to keep it strong here, and put Miami on the map."
The ladies of State Of are not the only females kicking music's bottom in town.
"There's a ton of really awesome women musicians or female fronted bands in this city," Taylor said, crediting a few, including Afrobeta, Little Beard, Rachel Goodrich (who's moved to LA, but is from Miami), and She Said, a project Osorio was a part of which included a 20-piece female orchestra playing world music.
On women making music in Miami, Osorio added, "They're very strong women, and it's not necessarily just being women, just as musicians. It's beautiful to see what they do."
Catch State Of's next Miami show downstairs at the Electric Pickle (2826 North Miami Avenue) on August 19.