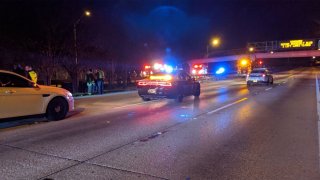 Two people who fled from a traffic stop in St. Petersburg died in a crash on Interstate 275 early Tuesday morning, the Florida Highway Patrol said.
A short time before the crash, St. Petersburg police stopped the vehicle. The car, driven by a 28-year-old man, fled from the officers, who didn't pursue them, troopers said in an incident report.
The car was traveling at a high rate of speed and the driver failed to negotiate a curve in the road, the report said. The car crossed the median, crashed into a tree and rolled over multiple times.
The 33-year-old passenger was ejected from the car as it rolled over and erupted into flames, the report said.
The crash closed I-275 for several hours.
The names of the crash victims haven't been released.
Copyright AP - Associated Press