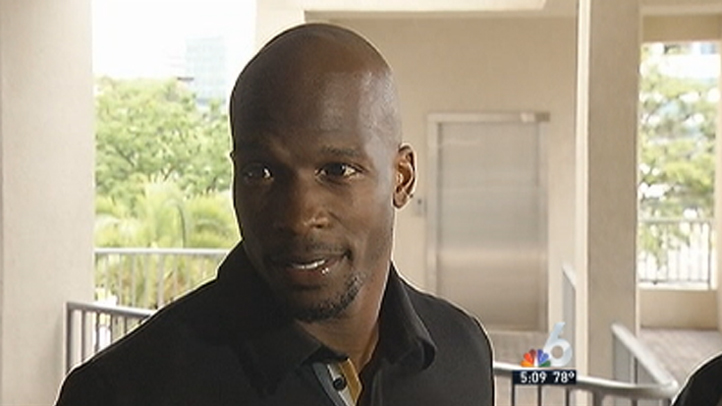 MIAMI HEAT TAKE GAME 2 IN NBA FINALS

LeBron James may have been slow to warm up, but his sensational block on a dunk try by the San Antonio Spurs was the story of the night. The Miami Heat won Game 2 in a 108-82 blowout as the series heads to San Antonio for Tuesday night's Game 3.

PROBATION HEARING FOR EX-NFL STAR

Former NFL star Chad Johnson could learn whether his probation violation in a domestic violence case might land him in jail. The hearing Monday in Broward County court comes after Johnson was arrested in May after failing to meet with his probation officer. He insisted it was a misunderstanding.

BOB EVANS RESTAURANT EVACUATED AFTER POSSIBLE SINKHOLE

Employees discovered cracks on the outer and inner walls at a Bob Evans restaurant in Seffner Sunday. Engineers were investigating whether a sinkhole was to blame. The restaurant is located four miles from the site where a man disappeared after a giant sinkhole opened beneath his home in February.

DEER GETS HEAD STUCK IN DORITOS BAG

A Florida Keys deputy discovered a deer with a Doritos bag stuck over its head. The Key deer allowed the deputy to remove the bag without a struggle. Key deer are the smallest of the Virginia white-tailed deer subspecies and are endangered. The U.S. Fish and Wildlife Services says the deer have been threatened by development, habitat loss and hurricanes.

CORAL GABLES RESTAURANT WEEK BEGINS

Downtown Coral Gables will celebrate its 6th Annual Coral Gables Restaurant Week June 10-June 30 with exciting new restaurants and more unique events. The event features prix-fixe menus at restaurants in Coral Gables.

MIAMI-DADE EXPRESSWAY AUTHORITY TOLL HIKE PUBLIC HEARINGS

The Board of Directors for the Miami-Dade Expressway Authority (MDX) will be considering a toll rate change for SR 836/Dolphin Expressway. The MDX Board approved a toll rate for SR 836 of 70 cents per gantry at NW 97th Avenue, NW 57th Avenue and NW 17th Avenue in both eastbound and westbound directions. The Board is seeking public input on a potential lower rate of 60 cents for these locations.
Copyright AP - Associated Press