For Americans, Friday in Pyeongchang was full of questions:
Can Mirai Nagasu, Bradie Tennell and Karen Chen recover from a disastrous opening night in the women's individual figure skating competition? Can 35-year-old Shani Davis turn back the clock and deliver one more golden performance in his signature event? If the best hockey players in the world were in the Olympics, would Team USA still be playing?
Here are the six events you may have missed over the past 24 hours in Pyeongchang:
Russian Zagitova Wins Figure Skating Gold, Edges Medvedeva
The women's free skate was billed to be a battle of the Russians and it lived up to the hype.
Alina Zagitova capped her meteoric rise with Olympic women's figure skating gold, topping fellow Russian skater Evgenia Medvedeva Friday. The 15-year-old Zagitova led Medvedeva by 1.31 points after the short program and delivered a stunning free skate. Medvedeva matched her free skate -- both scored exactly 156.65 -- but that wasn't enough to catch up.
This is not the first time Zagitova has edged Medvedeva — Medvedeva had not lost a competition in more than two years before Zagitova beat her at this year's European Championships.
Canada's Kaetlyn Osmond won bronze.
The three American figure skaters — Karen Chen, Bradie Tennell and Mirai Nagasu — all stumbled at various points in their free skates. Tennell finished ninth, Nagasu 10th and Chen 11th.
Florida's Mantia Just Misses Medal in 1000m
Friday morning was a tough one for Joey Manita, who came so close to getting a medal in the speedskating event, with the Ocala native missing out on the bronze medal by .34 of a second and coming in fourth.
The 1000-meter sprint is Shani Davis' event. He won gold medals in the event in 2006 and 2010. His world record time of 1:06.42, set in 2009, still stands.
But it's been nearly a decade since Davis, one of America's greatest speedskaters ever, turned in those record-setting performances - and that continued with a seventh place finish.
The favorite, Kjeld Nuis of the Netherlands who was the gold medalist in the 1,500-meter last week and winner of two world titles in 2017, made his Olympic debut in Pyeongchang with the gold medal.
Men's Biathlon Relay: No Fourth for Fourcade
Sweden captured the gold medal in the men's 4x7.5-kilometer relay in front of their king, Carl XVI Gustaf, to close out the biathlon competition at the Pyeongchang Games. It's Sweden's first-ever gold medal in the event. Biathlon powerhouse Norway finished in second for the silver medal. The Germans won bronze, marking the seventh time they have medaled in this event in the last eight Olympics.
That kept France's Martin Fourcade from claiming his fourth biathlon gold medal in Pyeongchang. The team led by Fourcade finished in fifth place.
But Fourcade has already established himself in Pyeongchang as France's most successful Olympian ever.
When he anchored the mixed biathlon relay team to a come-from-behind victory on Tuesday, he became only the second athlete from France to win three gold medals at a single Winter Games. His five gold medals overall — the mixed relay, a photo finish in the 15-kilometer mass start and the 12.5-kilometer pursuit, plus gold in the individual and pursuit events in 2014 — are the most ever by a Frenchman.
After Tuesday's win, according to Reuters, he sent a message to French skier Mathieu Faivre, who was sent home by the French Alpine team for saying he did not care about the medals won by his teammates.
"I wanted this team medal, it's such a different emotion from an individual medal," he told French television. "This is an individual sport, and to win as a team is something beautiful, even if everyone cannot participate."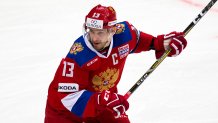 Russians Guaranteed First Hockey Medal in 16 Years
There will be a new Olympic gold medalist in men's hockey, either the Russians or Germany, after they booked their tickets to the final by beating the Czech Republic and Canada, respectively.
While the Russians were expected to make the finals, the Germans' 4-3 win over powerhouse Canada was a major upset. But it's not too surprising that there's an upset in these Olympics, the first being played without NHL players since they were allowed to participate in 1998.
That year, superstar goaltender Dominik Hasek led the Czech Republic to gold. Mario Lemieux, Eric Lindros, Chris Pronger and Sidney Crosby helped Canada to win gold in three of the last four Olympics. Teemu Selanne led Finland to medals in three consecutive Olympics.
The Russians have managed a silver in 1998, a bronze in 2002 and nothing since, while Germany hasn't medaled since it got bronze in 1976.
Now Russia — playing as the Olympic Athletes from Russia because Russia is not allowed to compete as a team due to a doping scandal — gets a shot at its first gold since it played as the post-Soviet Unified Team in 1992. No matter what happens, Germans will have its best men's hockey medal ever.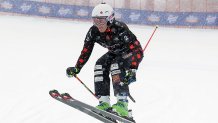 Canada Takes Gold and Silver in Women's Ski Cross Final
Even without its Sochi star, Canada dominated the women's ski cross final, with Kelsey Serwa winning gold and Brittany Phelan taking silver.
Three-time Olympian Fanny Smith of Switzerland edged out Sweden's Sandra Naeslund to earn bronze. Smith finished in the top 10 in the last two Games.
Serwa, who won silver in Sochi, faced a major setback in December 2016 when she damaged cartilage in her knee in a training accident, cutting her season short. She came back for the 2017-18 season with a vengeance, placing third at the World Cup season opener in Val Thorens, France.
Canadian Marielle Thompson failed to make it to the quarterfinal after an early crash. Thompson won gold in the event in Sochi, but in October she ruptured her ACL and MCL ligaments in a training accident. Her Pyeongchang appearance came only four months after having her knee surgically repaired — her first serious runs since the accident were just days before the ski cross final.
No Americans contended for a medal.
Another Canada Loss Scores Switzerland the Bronze in Curling

After a major upset by the United States, defending gold medalists Canada couldn't quite clinch a medal in Pyeongchang, losing their bronze medal match against Switzerland, 7-5.
The Swiss fell to Sweden's dominant team in their semifinal match, 9-3, but performed well enough against reigning Olympic champs Canada to come away with bronze.
The U.S. victory Thursday was a remarkable comeback story for team which had never beaten Canada at the Olympics and hadn't made the podium since the 2006 Turin Games, when they won a bronze medal.