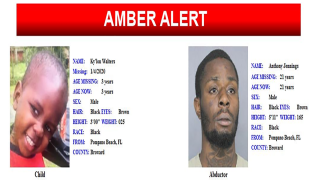 A boy reported missing from his Broward County home since this past weekend was found safe after an Amber Alert was issued Monday.
Officials said 3-year-old Ky'lon Walters had been last seen on Saturday near the intersection of Northwest 7th Avenue and 8th Street in Pompano Beach wearing a red shirt and blue jeans.
After the Amber Alert was issued, officials said Walters had been found safe.
Florida Department of Law Enforcement and Broward Sheriff's Office officials said he may have been in the company of 21-year-old Anthony Jennings.
No other information was immediately known.