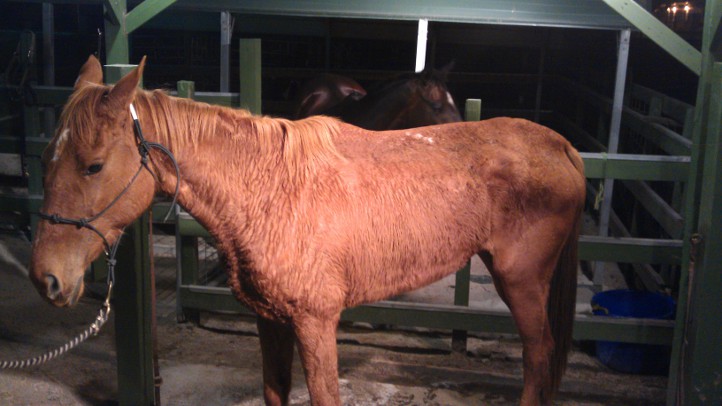 The rash of injured and emaciated horses being found in the agricultural parts of Miami-Dade County continues with news that another thoroughbred was rescued Saturday night in Redland.

Miami-Dade Police's Agriculture Patrol contacted an animal rescue program to pick up a former racehorse named Foolish Treasure which was found stray and injured near SW 195 Avenue and SW 202 Street.

According to Jeanette Jordan, president of the South Florida Society for the Prevention of Animal Cruelty, the horse was identified by a tattoo and last raced in Tampa about four years ago.

"After 2008, she falls off the radar," said Jordan. "I'm just glad we got to her in time before she was hit by a car or starved to death."

Although the horse is emaciated and has an injury to a leg, Jordan expects Foolish Treasure to make a full recovery.

In the past four days, police and rescue groups have found 10 horses in South Dade which had been lost or released and in poor health. Jordan said all but one should make a full recovery.

"People who live on the east side of I-95 don't realize we have a huge agricultural corridor in west Miami-Dade and that there are going to be animals that fall through the cracks," Jordan said.

"We just try to catch them before they hit the ground," she said.

She went on to say that Florida is ranked third in the country in total horse population and the high number of racetracks in South Florida makes horses in the region vulnerable to mistreatment or neglect.

As to who or what is responsible for the recent rash of stray horses, Jordan said many are being released by owners and that police are investigating a possible connection between the thoroughbreds who might have been headed to a slaughterhouse in the area.

Calls seeking comment from Miami-Dade Police were not immediately returned on Sunday.

In the meantime, Jordan said the rescued horses would continue to be cared for and eventually put up for adoption.

Those interested in adopting one of the horses can visit the group's website.