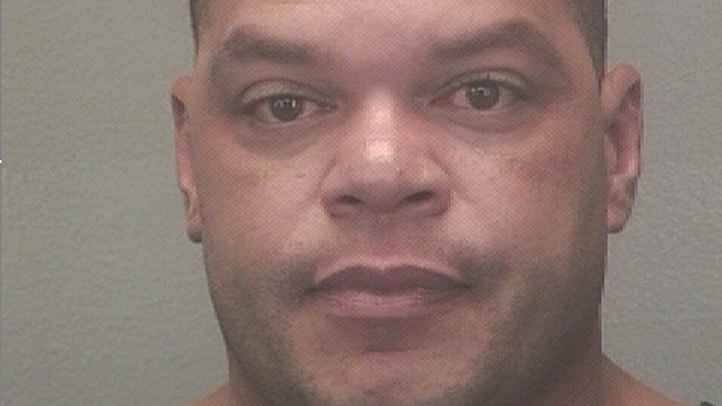 A Broward County Sheriff's Office Correctional Deputy was busted after police say he was caught buying steroids in an IHOP parking lot.

David Agosto, 44, was arrested on August 6 and charged with possession of anabolic steroids, according to a Hollywood Police arrest report.

According to the report, members of the Hollywood Police's Street Crimes Unit were conducting surveillance in the parking lot of the IHOP at 2754 Hollywood Boulevard when they spotted Agosto and another man talking in the parking lot.

The other man, identified as David Kader, opened the trunk of a BMW and handed Agosto a pill bottle, the report said.

When Agosto got into a white Ford Crown Victoria, the officers moved in and stopped both men, the report said.

According to the report, when officers searched Kader's car, they found approximately 20,000 pills in his trunk, numerous glass jars with a liquid substance marked testosterone and numerous syringes throughout the trunk and car.

Police also found an AK-47 assault rife with two empty magazines in the trunk, a loaded .40 caliber Glock handgun underneath the driver's seat, and $2,821 in cash.

Kader was "trembling and appeared to be extremely nervous," the report said, and told detectives he was in the parking lot "selling his buddy some supplements."

When Agosto was approached, he handed detectives a Broward County Sheriff's Office Correctional Deputy ID card, the report said.

Police found a bottle containing 100 pills on Agosto, which matched those found in Kader's car, the report said. Officers also found a BSO uniform with a deputy star and a .40 caliber Glock in Agosto's trunk, the report said.

Agosto told detectives he'd bought pills from Kader, and Agosto was taken into custody, the report said.

Poison control later identified the orange pills found in both cars as Winstrol, an anabolic steroid, the report said. Other pills and the liquid were also identified as anabolic steroids.

Though it's unknown whether Agosto or Kader were taking the steroids, the report noted "Kader and Agosto are extremely muscular and heavy weight lifters."

BSO officials said Agosto has been with the department since 2002. He was suspended with pay on Aug. 8.

Both men bonded out of jail. It was unknown whether either has an attorney.