"Scarred for life." That's how a Colombian woman who was badly burned during a flight to South Florida described her ordeal.
Belia Pena Castro exclusively told NBC 6 she endured extreme pain after hot coffee spilled down her blouse. Castro's doctor exclusively shared photos of her injuries with NBC 6. The photos were blurred due to their disturbing nature. Castro suffered burns to her chest, breast and stomach while flying from her native Colombia to Miami.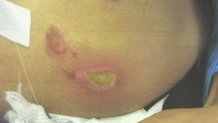 In Spanish she told us, "The coffee was very, very hot. It got all over my breast and my abdomen." Attorney Marco Garcia represents Castro.
"The flight attendant offered her coffee with the lid off and before he could hand it to her the coffee spilled on her. She was never able to touch it," explained Garcia. "The coffee then spilled all over her breast and her abdomen causing third-degree burns."
Castro and Garcia are sending a warning to anyone who flies. Castro said it's much more about the safety of all passengers in the sky.
She traveled with Republic Airlines, which is contracted by American Airlines. When the scalding coffee spilled on Castro, the plane nearly diverted but a doctor on board tended to her.
"Psychologically, having burns on her breast as a woman is quite traumatic. She's had to submit to a bunch of plastic surgery procedures to limit the amount of scarring she will experience for the remainder of her life," Garcia said.
Castro said the danger to kids and other passengers is real.
"I don't see why they are offering coffee at such high temperatures," Garcia stated. "Turbulence, and indeed at this time there was no turbulence. At a minimum, they should have been serving the coffee with a secure lid. It could happen to anybody."
Garcia said an airline legal representative interviewed Castro, but he's demanding the airline take care of her medical expenses and wants them to evaluate its rules for hot beverages.
A spokesman for Republic Airlines, the contractor for American told NBC 6:
"We are saddened to learn of Ms. Castro's injuries and wish her a full recovery. We have been in contact with Ms. Castro and her attorney and will continue our communications through those channels to resolve the matter. As such, it is inappropriate to comment further."