Driving on many South Florida highways can be difficult enough, but the NBC 6 Investigators learned there's something that's making the roadways even more of a dangerous obstacle course - road debris.
The NBC 6 Investigators examined crash data for Broward and Miami Dade Counties and discovered accidents caused by road debris increased by 60 percent over the past four years.
Drivers are getting into accidents due to hitting the objects, or swerving to avoid them.
Survivor: "It was a Miracle"
Road debris has been a long time problem in South Florida. Stephanie Murray knows the pain and trauma it can cause a family.
Murray was 13 years old when she was riding in the passenger seat of her mom's minivan down I-95. A a metal construction rod pierced her windshield and went straight through her body. Police believe the rod fell off a truck, before hitting the car.
"It's a moment in time that has stopped for me," said Murray, "It was a miracle."
The metal rod passed through Murray's body and lodged into the seat behind her. The rod was just three centimeters from her heart.
"It was a horrific accident," she recalled.
Paramedics drove the van to the hospital and used a machine to cut the rod in half before taking the teenager directly inside the emergency room to have it removed from her body.
"It was a long road to recovery, both physically and mentally," said Murray.
Her father is a Broward Sheriff's Lieutenant who still has the metal construction rod that almost killed his daughter.
"I just remember the pain my wife and I went through with my family," said Jim Murray. "It's a miracle story," he said."
Call to Action: Growing Problem
When the accident happened in 1998, community leaders called for action to make the roadways safer. With the help of Murray's family, State laws were changed that created the *FHP phone line to report debris, created road rangers, and a law that made it easier to track 911 cell phone calls.
But it's still a dangerous problem today. Drivers' windshields in Florida have been pierced by kayak paddles and crowbars in just the past few months.
"Your heart just sinks to your stomach to constantly hear that something else has happened to someone else and it wasn't just me," said Stephanie Murray.
The NBC 6 Investigators found accidents involving road debris sharply increased in Broward and Miami Dade from 1,121 in 2011 to 1,797 in 2015. That's a 60 percent increase in accidents.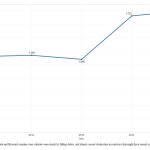 // <![CDATA[ var divElement = document.getElementById('viz1486434820074'); var vizElement = divElement.getElementsByTagName('object')[0]; vizElement.style.width='100%';vizElement.style.height=(divElement.offsetWidth*0.75)+'px'; var scriptElement = document.createElement('script'); scriptElement.src = 'https://public.tableau.com/javascripts/api/viz_v1.js'; vizElement.parentNode.insertBefore(scriptElement, vizElement); // ]]>
"These statistics are getting worse over the past four years and that is disheartening," said Murray.
The Debris is Piling Up
Officials with the Florida Department of Transportation gave NBC 6 Investigators access to their facility where road debris is collected and stored in Broward County.
In just two days' time, road crews collected a large pile of debris; everything from shopping carts, to strollers to pieces of metal.
"It's a big problem," said Barbara Kelleher, a spokesperson for FDOT. Crews collect 11,000 tons of road debris every year in Broward County alone.
Debris: How to Avoid it
At Broward College's Institute of Public Safety, instructors teach officers evasive maneuvering techniques on their road course. Their lessons include how to avoid debris in the road.
Wayne Boulier is a retired police officer who teaches new officers how to stay safe.
"Seconds count," said Boulier. "If you're paying attention you'll have time to make a safe decision."
He said while driving on the highway, you can travel the length of a football field in three seconds time. A lot can happen in three seconds.
A recent study shows close to 40 percent of all deaths nationwide happened when a driver swerved to avoid a crash.
Sometimes, Boulier said, it's better to hit the object.
"Then what you do after you run over it, you want to get off the roadway as quickly as possible," he said.
Boulier recommends every driver does two things to their car to make sure it responds appropriately to quick decisions: check the air pressure of yours tires to make sure they have the proper amount of air and make sure you have good breaks.
"Tires are one of the most neglected things on a car these days," said Boulier.
Looking Forward
For Stephanie Murray, she's made it one of her life missions to educate people about the dangers of road debris and the importance of tying down objects before hitting the road.
She considers herself lucky; she has experienced a lot over the past two decades. She got married and now has two little girls of her own, but she still lives with the trauma of what happened to her.
"Every little milestone I've always looked back and thought, 'I might not have been here'."
Mc Nelly Torres contributed to this report.