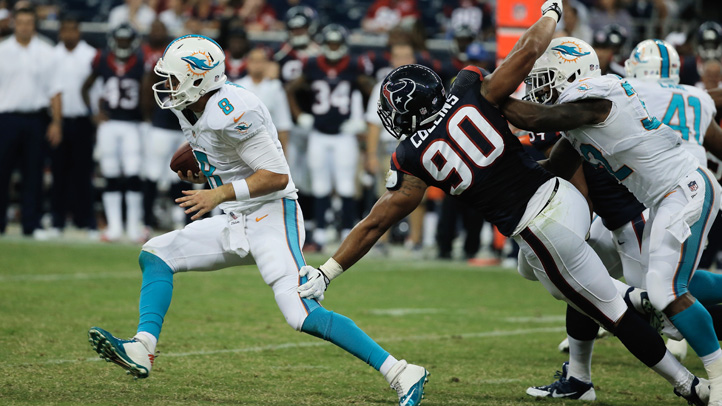 The Miami Dolphins begin playing games that count this weekend, visiting the Cleveland Browns to kick off the 2013 season. The Browns are one of the few franchises that has fared worse than Miami over the past decade, having not made the playoffs since 2002 and averaging just over 5 wins a season since then.
While the Dolphins are in year 2 of the Joe Philbin regime, Cleveland begins the season with a new general manager and coach (Michael Lombardi and former UM tight end and assistant coach Rob Chudzinski, respectively). The Browns have not won more than five games in any of the past 5 seasons, putting Miami's recent run of 6- and 7-win seasons in perspective.
Still, the Browns are not without their strengths, notably RB Trent Richardson and new LB Paul Kruger (whom the Browns poached from Baltimore this offseason). Unlike in past seasons, the Browns may not be a lightweight this year.
When the Dolphins have the ball: Dolphins fans will be clamoring to see Mike Wallace show what he is capable of in his first game with Miami, but the Dolphins' running game might be the key to victory against Cleveland. The Browns held opponents under 100 yards rushing 7 times in 2012, though curiously they lost all 7 of those games.
Dolphins coach Joe Philbin has high expectations for Lamar Miller and Daniel Thomas, who will look to fill the hole left by Reggie Bush. "I think they've improved, both of them, and we certainly will need those guys to perform well for us," Philbin said this week.
Miami gets a boost from the absence of Cleveland's rookie LB (and first-round pick) Barkevious Mingo, out with a bruised lung. CB Joe Haden is one of the few people in the NFL capable of slowing down Wallace, but the rest of Cleveland's secondary is weak, giving opportunities for Brian Hartline and Brandon Gibson to rack up big numbers.
When the Browns have the ball: Richardson is coming off a 950-yard rookie campaign, though he only averaged 3.6 a carry. Still, the Dolphins don't doubt his skills. "He's a good football player, a hard runner, physical guy," Philbin said. "He catches the ball well, so he's got more than one dimension."
Miami could see problems in the defensive secondary, as starting CB Dimitri Patterson is questionable with an ankle injury and rookie backups Will Davis and Jamar Taylor have both been ruled out due to injury. Cleveland QB Brandon Weeden will surely test Miami's secondary early and often (he will be throwing to former Dolphin WR Davone Bess, now a starter in Cleveland).
It will be interesting to see Cleveland's veteran LT Joe Thomas take on Miami DEs Cameron Wake and Olivier Vernon. Thomas has been a Pro Bowler in all 6 of his NFL seasons, but the Dolphins may have one of the best DE tandems in the NFL.
Who has the edge? Cleveland has home field advantage, but like the Dolphins have a lot of question marks heading into the season. The Dolphins have more talent on paper, but that means nothing after kickoff. This could be a nail-biter.
The Pick: Dolphins 24-Browns 20
Details: Miami Dolphins (0-0) at Cleveland Browns (0-0)
TV: CBS, 1:00 pm, Kevin Harlan, Solomon Wilcots
Line: Even
Previously: Miami lost 17-16 at Cleveland in 2011