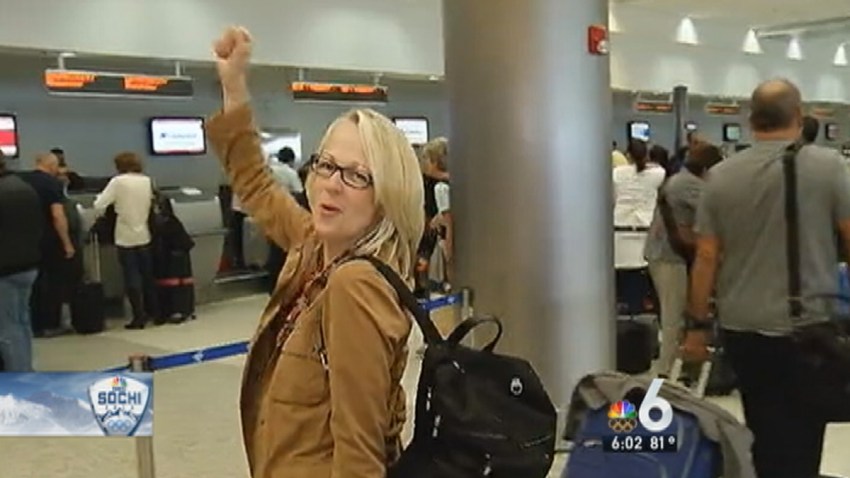 "U.S.A.! U.S.A.!"
That's what Mabel Alvarez was chanting in the terminal at Miami International Airport as she and husband Walter Alvarez headed to Sochi, Russia to see their son Eddy Alvarez compete.
"It's such a feeling that I think there's not even words to express the emotions," Mabel Alvarez said. "They outburst me and I just don't have the words to say."
Speechless and tongue-tied, her husband summed it up.
"All kinds of emotions," Walter Alvarez said. "I'm super excited."
These parents have been waiting a long time to see their 24-year-old son compete in the Olympics on the U.S. speed skating team. Eddy Alvarez is currently practicing in Sochi and appeared in the Opening Ceremonies for the Winter Olympics. He called his mom about the experience.
"He said, 'Mom, I just can't describe this feeling. It's real,'" Mabel Alvarez said.
After throwing a watch party for him Friday night, his parents prepared for their two week trip to Sochi. They said they're nervous about making it to Russia on time.
"I mean we get there tomorrow night and Eddy competes Monday, so it's going to be tight," Walter Alvarez said. "Hopefully everything will work out."
But, they said they're not worried about negative attention coming out of the Olympics over security concerns. The pair said they aren't letting potential terror threats steal their joy for their son's accomplishments.
"I am not thinking about it," Mabel Alvarez said. "I am enjoying every bit of this moment and I hope everything will be OK. I think everything is going to be OK."
To find out how to watch Eddy Alvarez compete, click here.