Deputies say an Escambia County Sheriff's K-9, Alek, is recovering after an armed robbery suspect kicked, punched and choked the dog while fleeing authorities.
The incident happened Sunday night near Pensacola.
The sheriff's office posted to Facebook an update on Alek, saying that the K-9 is doing well.
Investigators say 44-year-old Napoleon Bonapart Grandison now faces multiple charges, including battery on a law enforcement officer following the attack.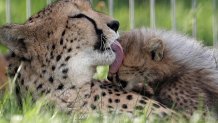 An arrest report says Grandison was wearing a wig and bandanna mask when he robbed a Circle K at gunpoint.
The Pensacola News Journal reports Alek the K-9 tracked Grandison to a nearby home.
The arrest report says he pushed two deputies and attacked the dog.
Grandison is being held on a $296,000 bond.
Records don't indicate whether he has a lawyer.
Copyright AP - Associated Press