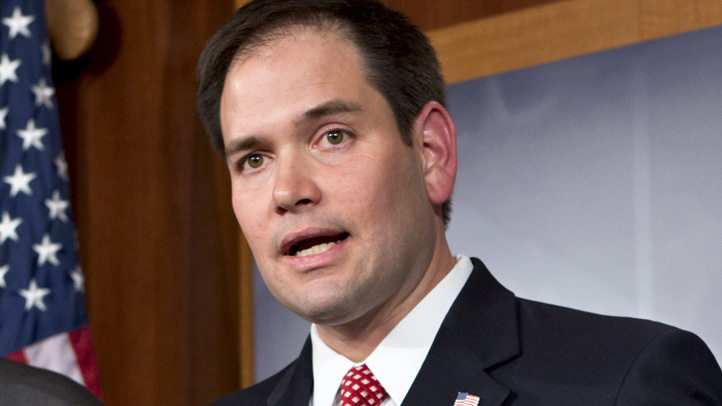 A bipartisan budget bill is now in the hands of the Senate, and Republican Sen. Marco Rubio of Florida is criticizing the deal.
"It's not just as a conservative. It's as an American," Rubio told NBC News. "We are plagued by a government that continues to spend a lot more money than it's taking in. And this has been going on for a number of years -- that's how you have a $17 trillion bipartisan debt."
The bipartisan bill breezed through the House on a 332-94 vote, with lopsided majorities of Republicans and Democrats alike voting in favor.
The modest package passed by the House on Thursday would ease the harshest effects of another round of automatic spending cuts set to hit the Pentagon and domestic agencies next month. Supporters of the measure easily beat back attacks on it from conservative organizations that sometimes raise money by stoking conflict within the Republican Party.
Rubio said his opposition of the bill was not a protest based on his conservative views.
"My hope is that perhaps in the next few days we can trigger a process where there can be an alternative to this," Rubio said.
The senator did not directly deny his opposition was related to a possible 2016 bid, but said his views on the budget had not changed since he first ran for U.S. Senate.
"We have a country that borrows way too much money," Rubio said. "It's growing our debt at an alarming pace."
The measure would bring a temporary cease-fire to the budget wars that have gridlocked Washington for much of the three years since Republicans reclaimed control of the House. It leaves in place the bulk of $1 trillion or so in automatic cuts slamming the Pentagon, domestic agencies and Medicare providers through 2021 but eases an especially harsh set of cuts for 2014 and 2015.
Nobody is claiming the pact worked out between high-profile Wisconsin Rep. Paul Ryan, the Republican Party's vice presidential nominee last year, and Senate Budget Committee Chairwoman Patty Murray, D-Wash., a 21-year veteran of the Senate, is perfect. It eases $63 billion in scheduled spending cuts over the next two years and replaces them with longer-term savings measured over 10 years, many of which don't accumulate until 2022-2023. Deficits would increase by $23.2 billion in 2014 and by $18.2 billion the year after that.
But the deal would put a dysfunctional Washington on track to prevent unappealingly tough cuts to military readiness and weapons, as well as continued cuts to programs cherished by Democrats and Republicans alike, including health research, school aid, FBI salaries and border security. The cuts would be replaced with money from, among other things, higher airline security fees, curbs on the pension benefits of new federal workers or working-age military retirees and premium increases on companies whose pension plans are insured by the federal government.
As for whether or not conservatives would be betraying their principles by voting for the measure, Rubio says it's a free country.
"Look, I think everyone has to make a decision about how they apply their principles to the challenges before us," he said.
Eds Note: Please note change in Rubio's quote in second paragraph. A previous version incorrectly quoted Rubio. The correct quote is now reflected in the story.
Copyright AP - Associated Press