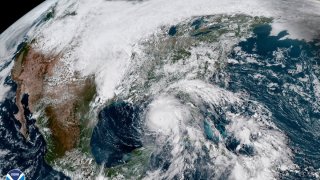 Florida Gov. Ron DeSantis announced another $3 million in funding for areas hit by Hurricane Michael as the three-year anniversary of the destructive storm's landfall approaches.
DeSantis announced the funding at a news conference Friday at the Bay County Emergency Operations Center in the Florida Panhandle.
Hurricane Michael roared ashore as a category 5 storm with winds of more than 160 mph on oct. 10, 2018, in the Florida Panhandle town of Mexico Beach. Nearby Panama City and Bay County also suffered heavy damage.
"This was a really really serious punch," DeSantis said Friday. "It changed our lives and changed this community."