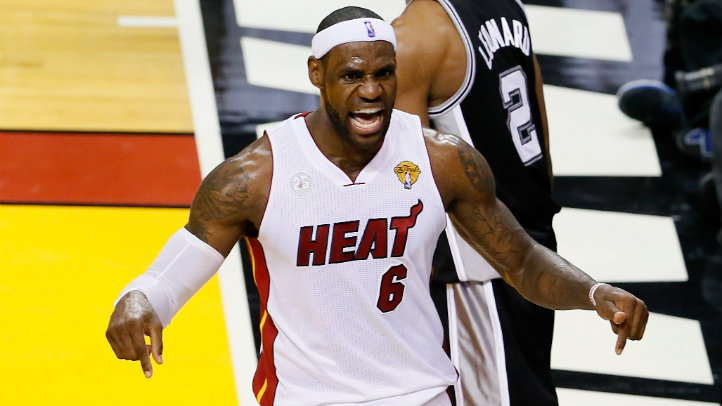 Miami Heat forward LeBron James never played a minute of college basketball, but the reigning NBA MVP has his own special place inside the Ohio State Buckeyes locker room.
Ohio State unveiled new basketball facilities on Tuesday, and to the surprise of all one of the lockers in the Buckeyes' locker room "belongs" to James, complete with his own nameplate bearing his hometown of Akron and the number 6 (James' number with the Heat).
James will not actually play for the Buckeyes (that's against NCAA rules). Instead, the locker will be used to showcase the LeBron-branded gear that the Buckeyes wear on the court. Nike makes a version of the Air Max LeBron X in Ohio State colors, which the Buckeyes will wear on the court this season.
According to Doug Lesmerises of Cleveland.com, the locker is intended to give possible Ohio State recruits something to gawk at when they make visits to the school, part of the growing arms race in college basketball.
Ohio State coach Thad Matta was jocular when asked about the prospect of the best player in the NBA joining his squad. "I think he's going to have to earn his stripes," he said of James' ability to contribute to the Buckeyes.
Thankfully for Heat fans, LeBron won't be able to leave Miami for the college ranks.