A Hialeah man is recovering in the hospital after being the victim of a deliberate hit-and-run crash late Thursday night as police said they've made an arrest.
According to Hialeah Police, the victim – identified by his son as Javier Prado – was hit near West 70th Street and 12th Avenue around 9:30 p.m. He was airlifted to Jackson Memorial Hospital in serious condition.
According to police, several men were involved in a fight in a parking lot of a commercial plaza. After the fight, 23-year-old Michael Delgado drove a car into a crowd, hitting Prado, police said.
The victim's son spoke exclusively with NBC 6, saying that Prado was trying to break up the fight when the car drove into the crowd. Prado was listed in stable condition at JMH.
"He has a fractured knee, they opened a gash in his head to stop any swelling to the brain so it doesn't cause any trauma," Prado's son said.
Police said Delgado fled the scene but was arrested a few hours later after he went to Palmetto Hospital complaining of injuries from the earlier fight.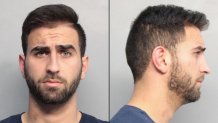 Delgado is now facing charges of attempted second-degree murder, aggravated assault with a deadly weapon and grand theft. He bonded out of jail Friday and it's unknown if he's hired an attorney.