Calls to a Miami-Dade help hotline have been increasing over the last several months as more and more people in the county have been at risk of being homeless.
The hotline at Camillus House – a non-profit humanitarian agency – has been running for more than a decade, but county numbers show there has been an overall increase in calls from people who are either about to become or are at an imminent risk of being homeless.
"We are experiencing the highest number of calls that we have ever had," said Ron Book, chairman of the Miami-Dade Homeless Trust.
The call center at Camillus House confidentially handles each person's call, pairing them with programs and providing them with available services and housing.
Last month, 4,054 people who were at an immediate risk of being homeless called the hotline. Over 2,800 people called in June and over 2,700 called in July.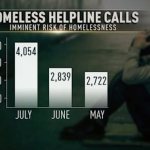 More and more people are turning to the hotline for help.
"We have a cycle of poverty," Book said. "Our job is to try and catch people to get them in housing."
Homeless Resources in Miami-Dade
Miami-Dade Homeless Hotline
1 (877) 994-4357‬
Miami-Dade Homeless Trust
http://www.homelesstrust.org/
Camillus House
https://www.camillus.org/
Branches
https://branchesfl.org/
In Broward County:
Broward Partnership
http://www.bphi.org/
Salvation Army
https://www.salvationarmyusa.org/usn/
Homeless Voice
https://www.homelessvoice.org/
More on homelessness in Miami-Dade:
Calls to Miami-Dade Helpline Increasing as Homelessness Risk Rises
How Volunteers Count the Homeless Population in Miami-Dade