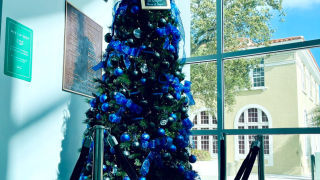 The Miami Beach Police Department is honoring all fallen officers, including 19 K-9's who died in 2020.
In a tribute to the 304 police officers who lost their lives nationwide, officer Traci Sierra hand-painted ornaments with the names of those who died, "in order to never forget the ultimate sacrifice of these officers."
The ornaments were displayed on a tree in the lobby of the Miami Beach Police Department. They will be mailed out to each of the fallen officer's agencies.
More than half of the Miami Beach police officers who died in the line of duty in 2020 passed away as a result of COVID-19, the department said.