Police have arrested a woman who they said murdered her two young children Tuesday night at an apartment in Miami's Little Haiti neighborhood.
Miami Police officials said they had received several 911 calls at around 8 p.m. from a woman who appeared to be in distress and in a crisis.
The woman had been continuously calling 911 but never said why she was calling, officials said.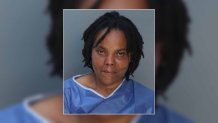 When officers responded to a home in the 100 block of Northeast 75th Street, they found 41-year-old Odette Joassaint, who allegedly told police "Come get them, I don't want them anymore."
As officers searched the apartment, they found Joassaint's two children, a 5-year-old girl and 3-year-old boy, tied up in a bedroom.
Miami Fire Rescue attempted to save the children's lives, but they were both pronounced dead that the scene.
"Even a seasoned officer like myself who's been on the force 25 years, it's heartbreaking," Miami Police spokesman Mike Vega said. "It's something sad to see, two kids that are just starting to live their lives have lost their lives."
Joassaint was transported to the hospital, Miami Police said. She was later arrested and charged with two counts of first-degree murder. She was being held without bond.
At the apartment Wednesday, the kids' father, Frantzy Belval, held photos of his slain children, Jeffrey and Laura.
He was asked why their mother would have killed them.
"I don't know," Belval said.
The couple had lodged allegations of domestic violence against each other in the past, between 2017 and 2019, though none of them ever resulted in a conviction.
Joassaint was accused of misdemeanor battery in 2017 when she and Belval lived together, but those charges were later dropped. Additionally, Belval was charged with felony battery and had a restraining order against him, which was also dropped.
The Department of Children and Families called the deaths "devastating" in a statement to NBC 6.
"The department is working closely with law enforcement to uncover the circumstances that caused the tragic and untimely death of these two children," the statement read in part.
Neighbors were shocked to learn of the killings.
"I want to tell her 'why did you do this? You're a mother. What's inside your brain? You're a mother. How do you feel? Is the devil in your head?'" neighbor Darlene Petion said.