An alleged dispute between neighbors in a Westchester community led to an early morning shooting that landed one man in an area hospital and another person in police custody Wednesday.
Miami-Dade Police Det. Chris Thomas said the incident happened just after 12:30 a.m. at a home in the 8200 block of Southwest 25th Street, where officers responded to reports of a shooting in the area.
Thomas said when officers arrived, they found a damaged door but no victim. Officers later discovered the victim's wife had transported him to an area hospital, where he was later airlifted to another medical center in stable condition.
Investigators said the wife told them an ongoing dispute led to a neighbor breaking down the door before entering and shooting the victim.
Police later identified the suspect as 37-year-old Julio Perez, who was charged with attempted first-degree murder and armed burglary.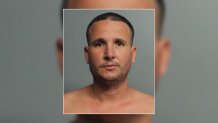 According to an arrest report, Perez used a sledgehammer to bust through the front door of the victim, Robert Muina.
A struggle ensued before Perez pulled out a gun and shot Muina, the report said.
Perez was booked into jail, where he was being held without bond Wednesday, records showed. Attorney information wasn't available.
"All the neighbors share and know whose car belongs where and it is pretty protective we all thought," said neighbor Yadi Oliver. "But it only needs a second. You only need a second to become a statistic."