An off-duty Coral Gables fire lieutenant was rushed to the hospital after he was struck by a stray bullet in northwest Miami-Dade Sunday night.
The firefighter was in a car in the area of Northwest 27th Avenue and 46th Street in Brownsville when he was shot around 10:20 p.m., Miami-Dade police officials said.
Coral Gables Fire Department officials identified the man as Lt. Xavier L. Jones.
Jones was taken to a nearby hospital where he was in stable condition, officials said. His injuries were not life threatening.
The lieutenant posted a photo of his bullet wounds to Facebook with the caption " Last night I got shot in both legs by a stray bullet. I had to be transported to Ryder Trauma Center. By God's grace I am doing a lot better. Thanks every one for your prayers and concerns."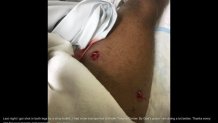 The shooting remains under investigation.
Jones was the recipient of the Firefighter of the Month award in July 2016.