Two women who were on board a small plane when it crashed Monday night in Miramar have been hospitalized, officials said.
Federal Aviation Administration officials said the single-engine Cessna 172 made an emergency landing on Miramar Parkway near Palm Avenue and Miramar Boulevard around 10:40 p.m.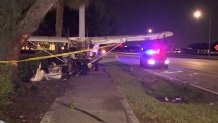 According to a registry from the FAA, the Cessna was registered out of Odessa - located just north of Tampa - and had made several flights between North Perry Airport in Hollywood and the southwest Florida cities of Immokalee and Naples.
The women inside the plane survived and were taken to the hospital, Miramar Police officials said. They were in serious condition Tuesday morning, officials said.
Officials later identified the two women on the plane as Gopika Sreekumar, 23, and Ravi Urmila, 36.
The FAA and the NTSB are investigating. Further details were not available.
Traffic lanes reopened around 6 a.m. Tuesday.