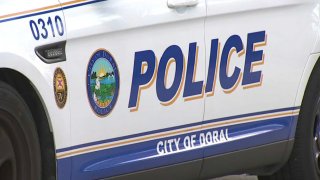 New police body camera footage shows a dangerous encounter between Doral officers and a trio of suspects accused of attacking them last month.
The incident happened back on June 15 at a neighborhood near Northwest 33rd Street and 91st Avenue, when officers were responding to a reported fight, arrest reports said.
Officers encountered one suspect who tried to run away before he got on the ground. The man started yelling and struggling with officers before he punched one officer in the face, the reports said.
Police said two other people attacked responding officers, and were taken into custody after officers used stun guns multiple times. The three suspects - Anthony Zepeda, Coral Torres-Maldonado and another man - were charged with disorderly conduct, assault on a police officer and resisting arrest with violence.
All three have bonded out of jail but they are due back in court in three weeks for their arraignment.