A driver has been arrested after a bicyclist was killed in a hit-and-run crash in Wynwood early Friday, authorities said.
Miami Police officers arrived at the scene around 3 a.m. near Northwest 20th Street and 1st Avenue, where the victim's body was found not far from a damaged bicycle.
Officials said the bicyclist died as a result of his injuries. His identity wasn't released.
The driver fled the scene but police were able to track him down more than a mile away from the crash, officials said.
According to police, a patrol officer spotted the car with extensive damage and tried to pull it over, but the driver attempted to flee.
"The fact that this man chose not to pick up the phone and call 911 and fled from the scene is what makes this case criminal," Miami Police spokesperson Kenia Fallat said. "Detectives are still interrogating this man. He hasn't really been forthcoming with us as to why he stopped or not."
Officials later identified the driver as 33-year-old Raymond Mathew. Mathew was charged with attempting to leave the scene of a crash involving death and driving without a license.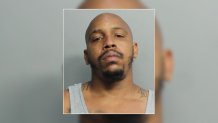 Police said Mathew smelled of alcohol, and has had his license suspended indefinitely since 2013.
Mathew was being held on $12,500 bond Friday, Miami-Dade jail records showed. Attorney information wasn't available.