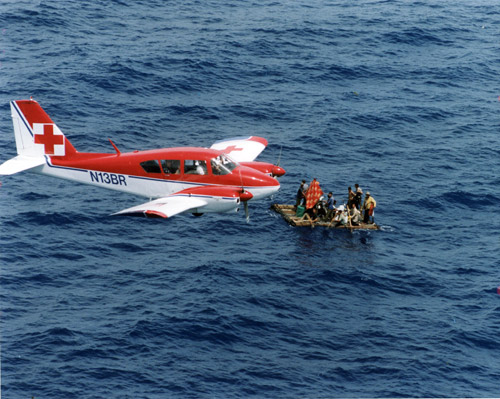 "There ought to be a book," was the constant refrain during the 1990's, when Miami-based Cuban exile organization Brothers to the Rescue was constantly in the news.
And why not? There were young dashing pilots, veteran CIA operatives, Cuban spies, four plane crashes, battles with the federal government, and conspiracy theories that still abound. Toss in Fidel Castro, desperate refugees on rafts, and a politically powerful exile community, and you have the making of a great book.
That book has arrived, authored by Miamian Lily Prellezo.
"Seagull One: The Amazing True story of Brothers to the Rescue" is the never-before-told story about the humanitarian organization that saves 4,200 Cuban rafters from death in the Florida Straits. Nineteen nationalities of men and women create unity in multi-cultural Miami when they fly in rickety Cessnas to save the lives of people they will seldom, if ever, meet. And they do it between day jobs and carpool, to prove once again that we are our brothers' keeper.
-- University Press of Florida
Things really heated up for the Brothers when President Clinton changed immigration policies and stripped Cubans of their special status as political refugees under the Cuban Adjustment Act. The Wet Feet/Dry Feet policy became law, sending Cuban refugees found in the water back to their native country. Basulto, not interested in shrinking from the fight, tested the patience of Fidel Castro by flying over Havana in 1995. Then, six months later, he blanketed Havana with half a million leaflets featuring the U.N. Declaration of Human Rights.
The deaths of four pilots, shot down in two planes over international waters by the Cuban airforce, is the climax of the book, but by no means its most controversial plot point. An alleged spy in the organization working for both the FBI and Castro, Juan Pablo Roque, betrays his fellow pilots -- or does he? The suspicions, doubts, and alleged conspiracy between the United States and Cuba linger until the book's final page.
The book is a wonderful achievement and a contribution to our understanding of a unique chapter in the Cuban Exile experience. With excellent story telling, "Seagull One" is a historical work that reads like a novel. A massive research challenge that was more than met by author Lily Prellezo's persistence and unique understanding of what drove the men and women of Brothers to the Rescue to accomplish what often amounted to miracles over the Straits of Florida.
It is a story of tragedy and triumph, brotherhood, sisterhood, and betrayal. A must read.