Florida Highway Patrol officials confirmed two college students from South Florida were killed in a deadly weekend pileup near Orlando.
Valentina Martinez, 20, and 18-year-old Antonio Mesa, both from Weston and students at Florida State University, were in a vehicle that was rear-ended Sunday on the Florida's Turnpike in Lake County.
The two were with two others traveling north when a pickup truck failed to stop and slammed into their vehicle. Mesa was pronounced dead at the scene while Martinez died at an area hospital.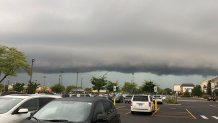 In all, seven vehicles were involved in the crash with a total of 17 people being treated for injuries – some at the scene while others were taken to the hospital, some with serious injuries, according to the Orlando Sentinel.
Mesa was a freshman at FSU. He graduated from Cypress Bay High School in 2016. Martinez also graduated from Cypress Bay High.
Samantha Zemaitis, who knew Mesa since middle school, was devastated by the news of losing a long-time friend.
"I've lost a couple of friends these past few years and it's only taught me that there's nothing you can do or say to bring them back, just keep the memories alive at heart," said Zemaitis.
She added that Mesa was always smiling and that she and her friends are simply heartbroken.
"We had a lot of memories and one thing about him that I'll always remember is the smile that he wore, because he wore it so effortlessly and it was amazing," Zemaitis said. "It just really breaks my heart, like all of this, it's just not fair, like I don't believe like that it was his time to go, and I really don't believe also that everything happens for a reason, because I don't see the reason behind taking someone's life away that was as innocent and as great as him. He touched a lot of people's lives."
The City of Weston sent their condolences to the victims' family. The City's Twitter page posted a tweet which reads: "Deepest sympathy to family and friends -- a tragic loss."
The driver and the front seat passenger survived the impact and are both being treated in a hospital in Central Florida.
No charges have been filed so far as troopers continue to investigate. A GoFundMe account has been set up to help Martinez's family with funeral costs.