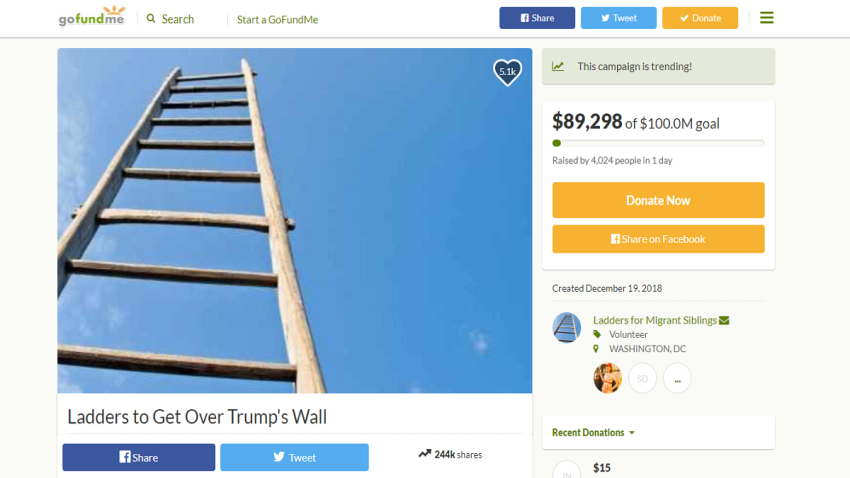 A GoFundMe campaign titled "Ladders to Get Over Trump's Wall" is trending after being established as a quasi-counter-crowdfunding effort in response to one attempting to fund President Donald Trump's border wall.
The counter-GoFundMe campaign launched on Wednesday and references the "We The People Will Fund The Wall" campaign, which has raised nearly $13 million in four days.
In contrast to the whimsical title, the "Ladders" campaign said all funds will be given to the Texas-based Refugee and Immigrant Center for Education and Legal Services non-profit, known as RAICES.
"We saw some folks are raising money for a border wall to keep out our migrant siblings and fellow human beings, who are fleeing violence and persecution and whose tragically-underpaid labor is essential to the U.S. economy," the page reads. "Seems like a bad idea on countless levels for everyone involved. Maybe we should focus on human rights and creating a community that reflects our supposed values."
The page identifies that it was created by Charlotte Clymer, a U.S. Army veteran who works for the communications team at Human Rights Campaign.
The page has received nearly $100,000 within two days.
"Grateful to you all who put down your hard earned cash to fund some 'ladders' (legal and social services for migrants)," RAICES wrote on Twitter.
The campaign seeking to fund Trump's border wall was created by Brian Kolfage, a U.S. Air Force veteran who in 2004 lost three limbs in a mortar explosion during the Iraq War.
Kolfage hopes to raise $1 billion. He criticized the counter-crowdfunding campaign by stating the ladders would not be accessible for Americans with disabilities.
"I'm kind of upset with the liberal campaign to counter the wall. Their ladders are NOT ADA accessible. I thought you guys cared about everyone?! EPICFAIL," Kolfage tweeted. "The good thing is the trump admin will have nice big shiny door, ada accessible for everyone coming LEGALLY!"
Clymer, called the attempt to raise $1 billion "ludicrous," adding it would never reach the fundraising goal.
"Supporting an organization working to help immigrants seeking legal asylum. This GoFundMe isn't really about ladders at all. It's about lifting people up," Clymer wrote.