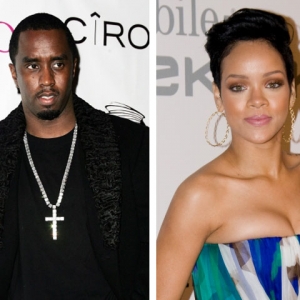 Diddy is defending his decision to let Chris Brown and Rihanna stay at his Miami home following Brown's alleged assaulted on the "Disturbia" singer.

"I know both of them and it's my house… And I'm allowed to give my house to whoever I wanna give my house to, " Diddy said during an interview on "The Ellen DeGeneres Show" that aired Tuesday.

VIEW THE PHOTOS: Rihanna: Music's Style Superstar
"I'm the type of person that I don't cast a stone or cast a judgment on anybody," the hip-hop mogul continued. "And so, if a friend or friends ask me for a favor then I'm [gonna] be there for a favor as long as I know that the energy of the favor is positive for two people to sit down and talk about a situation that they're in."

Diddy stressed that opening his home to Brown and Rihanna did not mean he was getting caught up in the couple's situation.

"I'm not gonna get involved in it, I'm not gonna pass judgment on it, if I could be there as a friend during hard times, then I'm [going to] be there as a friend," he explained.

"I think you were coming from a place of, of a friendship," Ellen said, agreeing with him.

As the interview continued, Diddy stressed his stance on violence of any kind.

VIEW THE PHOTOS: Hottest Hip-Hop Stars!
"I don't want any girl out there thinking it's okay to go back to a guy who hit her," he added. "I don't think that it's right for anybody to hit anybody."

The hip-hop star noted that the public does not really know what happened in the car between Rihanna and Brown on February 8.

"Relationships get ugly… it's a lot of stones being thrown and we don't know exactly what's going on. These are two young individuals. We need to pray for them and we need to give certain support but you don't need to start just saying that you know something that you don't know. You weren't in that car," he said.

"I was not," Ellen said.

"I wasn't in that car," Diddy continued. "And it isn't right for him to put his hands on her or her to put his hands on him, and we don't know what the problem is, but we need to pray for them and we need to do things to support them and that's all I wanna say about [it]."

As previously reported on AccessHollywood.com, Brown allegedly assaulted Rihanna during the early hours of February 8, allegedly biting and hitting her before leaving the scene. Brown turned himself in and was arrested several hours later by the LAPD on charges of making criminal threats. He was released on $50,000 bail.

During Brown's stay at Diddy's Miami home, photos surfaced of him smiling while skimming the surf on a Jet Ski.

Last week, a judge approved a request by Brown's attorney to delay the R&B star's arraignment in Los Angeles Superior Court on two felony charges for the alleged incident involving Rihanna.
Related Content from AccessHollywood.com:
PLAY IT NOW: Rosie O'Donnell Sounds Off On Chris Brown & Rihanna
PLAY IT NOW: T.G.I.F. Is Nickelodeon Standing Behind Chris Brown? (March 10, 2009)

MORE ACCESS ON THESE TOPICS: Rihanna - Chris Brown - Diddy - Ellen DeGeneres - TV One

Copyright NBCAH - Access Hollywood