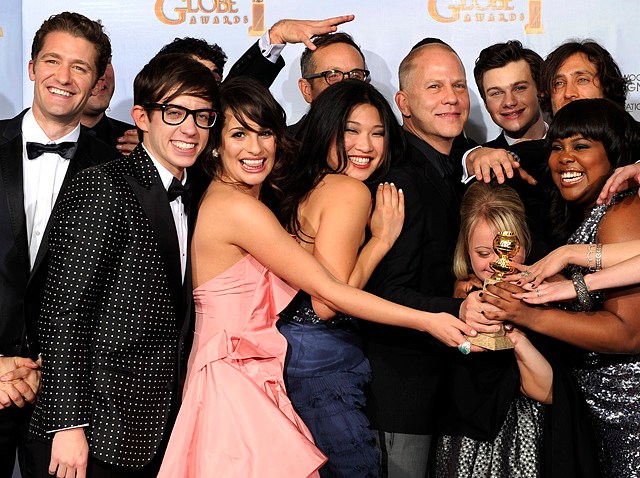 Michael Douglas, back in the public eye after a bout with throat cancer, came out to present the final award of the evening, and was met with a thunderous applause from a roomful of friends and colleagues thrilled to see him well.

"There's got to be an easier way get a standing ovation," joked Douglas.
It was the feel-good moment of an otherwise acidic Golden Globes, where "The Social Network," "Glee" and "Boardwalk Empire" were the big winners.
Ricky Gervais wasted no time in picking up where he left off at last year's awards show. As he approached the dais at center stage a beer awaited him, and he took aim at his first victim.

"It's going to be a night of partying and heavy drinking. Or as Charlie Sheen calls, it, 'Breakfast,'" quipped the British funnyman. It was all down (up?) hill from there. Even Robert Downey Jr. would be moved to describe the evening as "mean-spirited."
"The Social Network" came into the night with six nominations, making good on four of them, as the film about the birth of Facebook was honored for Best Score (Trent Reznor and Atticus Ross), Best Screenplay (Aaron Sorkin), Best Director (David Fincher) and the evening's big prize, Best Picture.

It hardly came as a surprise, as the film has been rolling up best-picture accolades from all manner of bodies, guilds and associations. At this point there will be little to no suspense come Oscar night, which will surely get people talking again about the idea of moving up the date of the show.

The evening went pretty much as expected on the television side, as well, with "Boardwalk Empire" and its star, Steve Buscemi, earning Best Drama and Best Actor, respectively. And pre-show favorite "Glee" defended its Best Comedy title, and picked up Best Supporting Actress (Jane Lynch) and Best Supporting Actor (Chris Colfer) trophies.

Seeing Colfer out of character, one gets the sense that his role as Curt on "Glee" isn't all that far removed from his own personal experiences. His acceptance speech likely had more people reaching for Kleenex more than any other.

"To all the amazing kids who watch our show and the kids that our show celebrates, and are constantly told 'No,' by the people in their environments, by bullies at school, that they can't be who they are or have what they want because of who they are--well screw that kid. Thank you!" The crowd loved it.
Mark Wahlberg had easily the best night of anyone who didn't win anyting, with his "Fighter" co-stars Melissa Leo and Christian Bale both scoring trophies and "Boardwalk Empire," for which he serves as executive producer, winning Best Drama and Best Actor for Steve Buscemi. Leo was fawning in her praise of the man who marshaled both projects to life.
"Mark Wahlberg, you are a prince, you're amazing," gushed Leo. "It was so beautiful to see you and your team work and thank you so much for working with the Ward-Eklunds for so long and so hard so that Mickey's legacy and Dicky as well will live on so much longer and brighter."

Throughout the evening, Gervais fired off countless take-no-prisoners barbs:

"Some of (the Hollywood Foreign Press) were taken to see Cher in concert—how the hell is that a bribe?"

"He has done all these films, but you probably know him best from facilities like the Betty Ford clinic and Los Angeles County Jail—Robert Downey Jr!"

"I just had to help (Hollywood Foreign Press President Phil Berk) off the toilet and pop his teeth in."

But it didn't feel quite as fresh as last year's performance, when he went after Mel Gibson, Paul McCartney and Angelina Jolie, among others. Maybe we just wanted it too badly, but he was still far funnier than your average awards MC.

There were a few awkward moments throughout, like when Natalie Portman assured the audience that her fiancée Benjamin Millipied "totally wants to sleep with (her)!"

Robert Downey Jr. also expressed an interest in sleeping with every woman nominated in the Best Actress in a Comedy category, saying he was unsure "an actress can do her best work until I've slept with her—Julianne (Moore)." He worked his way down the list before coming to the last and youngest nominee.

"I'm not trying to creep anyone out," he said, "But where's Emma [Stone]?"

Once again, Gervais kept the Golden Globes loose, and had more fun than anyone else in the room on a night went pretty much according to script (with the possible exception of "Carlos" beating out "The Pacific" for Best TV Movie or Miniseries), with "The Social Network" reaffirming its dominance, and "Glee" and "Boardwalk Empire" winning big.