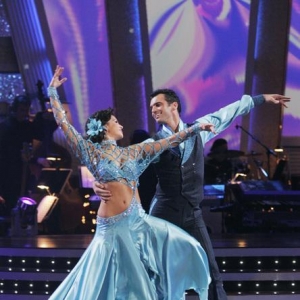 Melissa Rycroft may have received glowing reviews from the judges – and the fans – following last week's season premiere of "Dancing With the Stars," but one of her fellow competitors is calling foul.
Professional dancer Maksim Chmerkovskiy, who is paired with actress Denise Richards, said the former "Bachelor" star has a leg up on the competition thanks to her previous dancing experience.
VIEW THE PHOTOS: 'Dancing With The Stars' Week One! Just The Beginning…
"Its very hard for me because Tony [Dovolani] is my best friend, but if we're gonna call it what it is, it's very unfair because Melissa's a dancer – she was a cheerleader and did ballet," Maksim told TVGuide.com.
Experience or not, Melissa had less than 48 hours to prepare for last week's "Dancing" debut after being named as the replacement for Access Hollywood's Nancy O'Dell, who was forced out of the competition by a serious knee injury.
VIEW THE PHOTOS: Keepin' It Real With TV's Hottest Reality Stars!
But the lack of rehearsal time didn't seem to affect the duo's performance, as their waltz netted a score of 23 out of 30 from the judges.
Following last week's season premiere, Nancy spoke with Melissa and partner Tony Dovolani, who both responded to the notion Melissa had an unfair advantage.
"I'm not the first one that's ever had a dance background on here before," she noted. "I've danced before, but it's totally [different]… When I'm explaining it to people, I say, 'You can take the best baseball pitcher in the world and it doesn't mean he can throw a football accurately.' That's how I feel… So while I've danced, I've never danced like this. I'm learning along with everybody else."
VIEW THE PHOTOS: 'Dancing With The Stars' Season 8 Rehearsals
Tony agreed, harkening back to past "Stars" who have brought some formal training to the dance floor.
"Every season we've had that," Tony told Nancy. "[Shawn Johnson's] gymnastics background, we've had Joey [Fatone], we had Lance [Bass] last season. We had Mel B. They all had a dance background, and so does Melissa, but she has a ballet background – ballroom is a whole new animal."
However, Melissa and Tony weren't the only "Dancing" pair Maksim took exception with – he also offered some choice words for Apple co-founder Steve Wozniak, who is paired with his fiancée Karina Smirnoff.
"Steve's an amazing guy and incredibly friendly. He's very entertaining, he's trying his best and I've never seen anyone work harder than Steve," Maks added. "Having said that, he probably won't be in the semifinal or final. I think Karina deserves to be partnered with someone she has a chance with."
Related Content from AccessHollywood.com:
PLAY IT NOW: What Were Melissa Rycrofts Last Words To 'The Bachelor?'
PLAY IT NOW: 'Dancing With The Star's' Big Return!

MORE ACCESS ON THESE TOPICS: Dancing With the Stars - Reality TV - Melissa Rycroft - ABC - Denise Richards

Copyright NBCAH - Access Hollywood