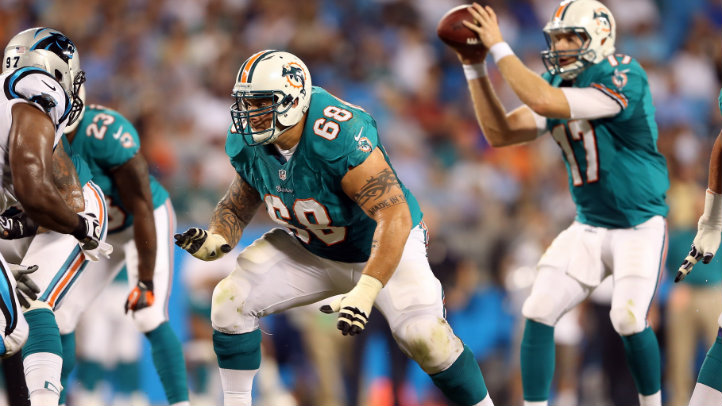 The NFL Players Association said Tuesday it will monitor the league's investigation of harassment claims made by Miami Dolphins offensive lineman Jonathan Martin.
"We expect that the NFL and its clubs create a safe and professional workplace for all players and that owners, executives, coaches and players should set the best standards and examples," the NFLPA said in the statement. "It is the duty of this union to hold the clubs and teams accountable for safety and professionalism in the workplace."
The union's announcement came one day after allegations surfaced that fellow Dolphins offensive lineman Richie Incognito sent Martin racist and threatening text messages. Martin left the team last week due to what the team said was reasons unrelated to football, and Incognito was suspended indefinitely on Sunday. Upon suspending Incognito, the Dolphins asked the NFL to conduct a full investigation.
"Every decision I've made, everything we've done in this facility has been done with one thing in mind," Dolphins coach Joe Philbin said Monday. "That's to help our players and our organization reach their full potential. Any type of conduct (or) behavior that detracts from that objective is not acceptable and is not tolerated."
Many Dolphins expressed support for Incognito on Monday.
"I didn't really see the side being portrayed right now," fellow offensive lineman Bryant McKinnie said.
But others around the league were much more critical of the player who has long had a reputation for playing dirty.
"His whole makeup is to play dirty and hurt guys," Arizona Cardinals defensive tackle Darnell Dockett said Monday. "Everybody knows that. I just don't understand how he got away with it for so long. I think the NFL really needs to buckle down on it now, because it's bigger than trying to hurt other guys. You're trying to hurt guys on your team mentally, which sometimes can actually be worse than hurting someone physically."
"There's certain people out there who are just punks, and he wants to be that kind of guy," added former Seahawks and Lions defensive end Lawrence Jackson.
The NFL has not yet set any timeline for its investigation, but Philbin has vowed to do his part to make sure the Dolphins foster a welcoming workplace environment.
"If the review shows that this is not a safe atmosphere, I will take whatever measures are necessary to ensure that it is," Philbin said. "I have that obligation to the players that I coach on a daily basis, and I will do that."
Copyright AP - Associated Press