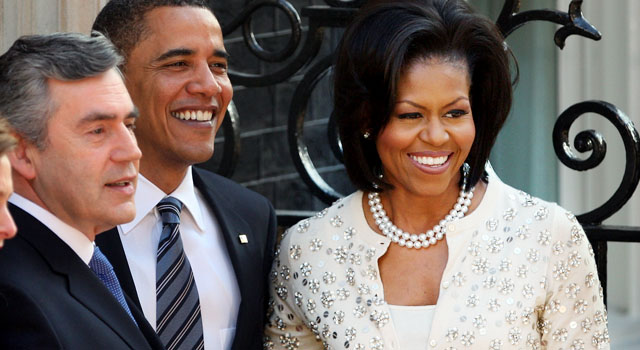 The first lady may be getting rave reviews on her wardrobe from around the globe -- but she has some in the fashion world fuming.
Michelle Obama has become the target of searing criticism from top U.S. fashion designers who claim the first lady of fashion isn't doing enough to rep their stylish duds during her whirlwind European debut, Women's Wear Daily reported.
"American fashion right now is struggling," Oscar de la Renta told Women's Wear Daily. "I don't object to the fact that Mrs. Obama is wearing J. Crew to whatever because the diversity of America is what makes this country great. But there are a lot of great designers out there. I think it's wrong to go in one direction only."
Michelle has stunned in a black-and-white Isabel Toldeo dress, wowed in springy J. Crew ensembles and dressed to impress in a Jason Wu duchess-satin opera coat -- but de la Renta said he wasn't impressed with the first lady's sleeveless dress and black cardigan combo during her visit to Buckingham Palace.
"You don't ... go to Buckingham Palace in a sweater," de la Renta sneered.
But elsewhere in the world Michelle was revered as a fashion icon.
The British press has breathlessly gushed over Michelle's fashion choices -- likening her to beloved former first lady Jackie Kennedy and dubbing her one of the "fluffies," First Ladies who Understand Fashion.
The Brits are "completely in love" with Michelle, editor of Vogue London Alexandra Schulman told ABC News. "I think she could do no wrong."
Michelle has typically leaned toward wearing young or lesser-known designers -- selecting Wu to desinger the one-shouldered chiffon gown she wore to inaugural balls and Toledo to design the yellow suit she wore on Inauguration Day.
"I love seeing young designers and their vision and how they grow," Vera Wang told WWD. "On the other hand, I wish she would consider some of us, because I think we also have contributions to make."
Many argue that with the fashion industry in financial crisis the first lady should make more of an effort to promote big names in U.S. design.
"We'd be thrilled to dress the first lady, of course," said Francisco Costa of Calvin Klein. "She has the power to influence consumers."
Still, others applaud Michelle for taking a less traditional approach to fashion in order to appeal to everyday Americans.
"I'm happy that she's wearing young designers and not only wearing [American] couture, which puts her more in touch with real people," Tommy Hilfiger told the magazine.