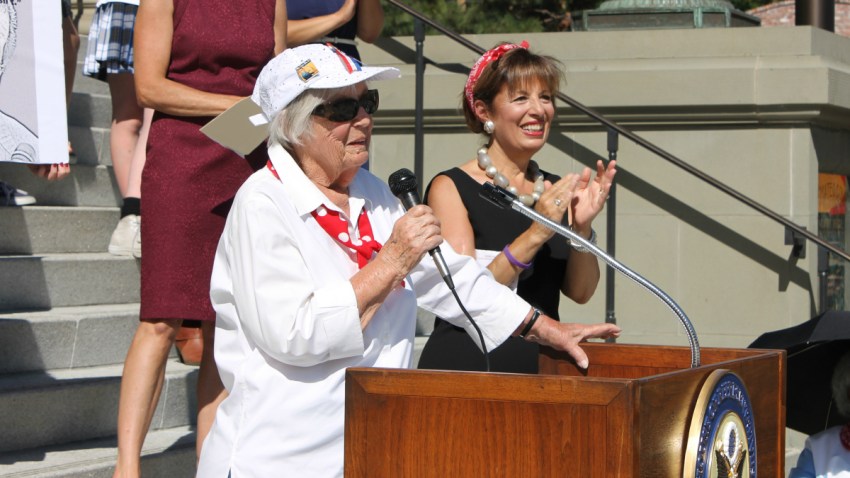 As if it couldn't get better for 93-year-old Phyllis Gould and her small band of Rosie the Riveters.
Not only did she and a handful of octogenarians meet President Barack Obama and Vice President Joe Biden at the White House in April. Now, there's a push in Congress to turn one day of the year into National Rosie the Riveter Day.
"I thought of the idea while I was in the shower one morning," the Fairfax woman told NBC Bay Area on Tuesday. "And it just started rolling."
She initially contacted U.S. Rep. Jared Huffman. And the idea grew. U.S. Rep. Jackie Speier then enlisted the help of Huffman and outgoing U.S. Rep. George Miller – all Democrats from California – to draft a formal letter to request a day be marked on the U.S. calendar to honor the women who are "among our nation's greatest living heroines."
So far, the request has about 30 co-signers, and the deadline to sign before sending it to the White House is Wednesday. There is no required number for the president to act, and no specific date has been set or suggested.
The congressional letter highlights the role women played during World War II, when 6 million women went to work, "literally providing the weaponry and ammunition to end the war."
For her part, Gould was a welder during World War II. And she was one of six Rosie the Riveters — all in their 70s, 80 and 90s — from the San Francisco Bay Area who flew to Washington, D.C., at Biden's special invitation, after Gould had written one of her many letters to the White House seeking recognition for the role of women during the war. Biden didn't ignore her and, in a conversation captured in a radio chat, invited her and her pals to D.C.
For Gould and her friends, it was a trip of a lifetime. She hugged the leaders of the free world and felt that she finally got respect from the very top.
But Gould said she's still not completely done with her mission. She now wants every city to post Rosie the Riveter acknowledgments at veteran memorials throughout the country.
"I'm obsessed with women being recognized," she said. "Because it won't happen once we're gone."