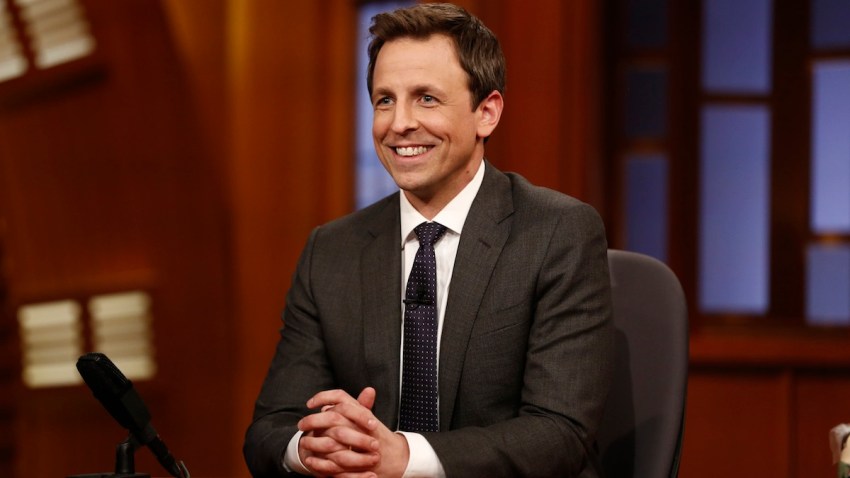 As Seth Meyers prepared for his big "Late Night" debut, Jimmy Fallon, Jimmy Kimmel and more hosts made sure to pass along some wisdom.
"The best thing Jimmy [Fallon] always said is that it's so important to have fun when you're out there," Meyers told "E! News" of the advice his pal gave him for heading up a late-night show. "When people are watching your show late at night, if you're not having fun then they probably don't want to spend their time. You're fighting against bedtime, so, you have to bring some energy to it."
Even with that advice though, the former "Saturday Night Live" star wasn't exactly calm before he stepped on his stage for the first time.
"I was nervous," Meyers said. "I'm having more fun each night. I had a lot of fun despite those nerves, but I was less nervous this last Friday than I was Monday [when the first show debuted]."
NEWS: Was Seth Meyers able to beat Jimmy Fallon in the ratings on his Late Night debut
Kimmel, Jon Stewart and Stephen Colbert also all reached out to Meyers, who added, "When you're taking on a job like this that's what you want more than anything is well wishes, so I was very glad to get that."
"SNL" alums Fred Armisen (Meyers' new band leader) and Amy Poehler were both on hand to help him ring in his big night, as was Vice President Joe Biden.
And it looks like all the well wishes and advice paid off.
On his debut night Feb. 24, Meyers scored Late Night's best demo rating on a Monday night in nine years, with 3.4 million viewers.
Don't forget to tune in to "E! News" Monday at 7 p.m. and 11:30 p.m. only on E!
PHOTOS: Take a peek at these other late-night talk show hosts
Copyright E! Online