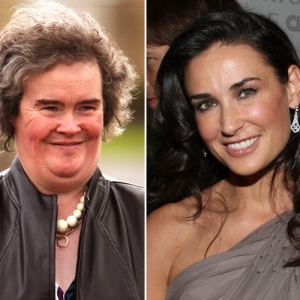 Susan Boyle has pledged to continue on in the "Britain's Got Talent" reality competition in the wake of allegations she lashed out verbally at journalists and members of police.
"I want nothing more than to stay and sing in the 'Britain's Got Talent' final," she said in a statement. "I've spent weeks rehearsing — it's all I've been thinking about. I'm not going to throw away my big chance now."
VIEW THE PHOTOS: The Brit Pack: Hot Shots Of Stars From The UK!
The 48-year-old Scottish singer came under criticism from the U.K. tabloid media after she allegedly lashed out, swearing in the presence of fellow hotel guests and later at journalists, who reportedly attempted to question her outside the London establishment she was staying in.
On Thursday, "Britain's Got Talent" judge Piers Morgan jumped to the Scot's defense, posting a blog on his official Web site, asking the public and the media to "give her a break."
VIEW THE PHOTOS: Keepin' It Real With TV's Hottest Reality Stars!
And now others, including Demi Moore, are following suit.
"Just catching up on the Susan Boyle info night. Don't read gossip/trash stuff. I wonder why no 1 reported what was said 2 provoke such a reaction?" Demi wrote on her Twitter page on Thursday evening.
Demi also had encouraging words for the singer, telling her to stay strong.
"2 the lovely Susan Boyle-Trust that the whole world is rooting 4U whatever the outcome! U have nothing 2 lose just keep sharing your light!" she wrote.
In related news, the U.K.'s Sun newspaper reported that Susan is no longer staying at the hotel where the alleged outbursts occurred. She is now reportedly holed up in a secret location in the run up to Saturday's final.
And a rep for the "Britain's Got Talent" told the Access they have reps who look after the contestants.
"We take the wellbeing of all contestants very seriously which is why we provide a dedicated production representative who is on hand 24/7," the rep told Access. "If they require any further support or advice, this is made readily available to them."
Related Content from AccessHollywood.com:
PLAY IT NOW: Was Susan Boyle Ready To Quit 'Britain's Got Talent'?
PLAY IT NOW: Susan Boyle's 'Britain's Got Talent' Return (May 26, 2009)

MORE ACCESS ON THESE TOPICS: Susan Boyle - Britain's Got Talent - Reality TV - Twitter - Celebrities

Copyright NBCAH - Access Hollywood