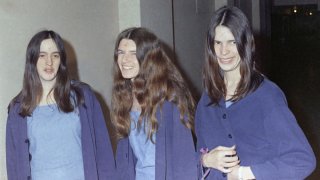 Manson Family member Leslie Van Houten may have been deemed "suitable for parole" on Thursday, but she still needs the approval of the full parole board and California Gov. Jerry Brown before she can be released.
Van Houten was convicted of stabbing Rosemary LaBianca in 1969, the day after other members broke into Sharon Tate's home and killed her and three others. But what happened to the other Manson followers?
Cult ringleader Charles Manson is serving nine life sentences in California. He's been denied parole a dozen times and will be 92 if and when he goes before the parole board in 2027.
Patricia Krenwinkel, who chased down coffee heiress Abigail Folger and stabbed her so many times that police thought her white nightgown was red, is serving a life sentence and is up for parole in 2018.
Check out NBC News' list of other Manson family members and see where they are now.