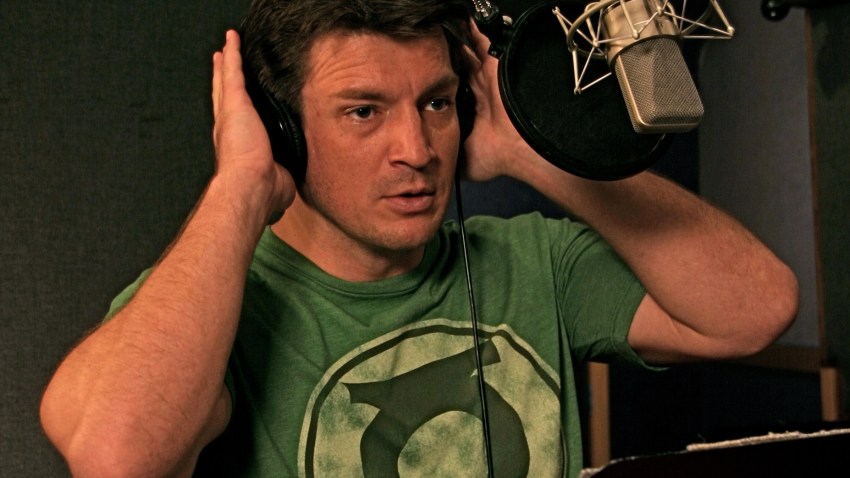 Ryan Reynolds may be the big screen's Hal Jordan, but he's not the only actor who'll be reciting Green Lantern's oath this summer.
"Castle" star (and major comic book fanboy) Nathan Fillion gets his own green glow on by voicing the ring-slinging superhero in "Green Lantern: Emerald Knights," a DC Universe animated film coming to DVD and Blu-ray on June 7 in anticipation of the feature film's release. And after spending his childhood prepping for the role, he couldn't be happier to put a ring on it.
"As a child, when you're pretending you're different super heroes, Green Lantern was the easiest because all you needed to light the fire in the imagination was the ring," says Fillion. "Superman, you need a cape; Spider-man, you need a full face mask. That wasn't tough to come by in a winter town like where I'm from, but they're just too hot to wear in the summer. So to be Green Lantern, all you needed to do is suck a lifesaver down to the right size, and to make sure it's a lime one – slip it on your finger, and you were good."
The direct-to-video film explores the origins of Jordan and many of his fellow Green Lantern Corps members, and Fillion said he was always captivated by the nearly limitless possibilities their power rings could unleash. "As a kid, what I liked about Green Lantern was that he could do anything – anything you could think of," he says. "It's like 'Wow, all I need is a giant mallet, or a catapult circa 1200s,' and suddenly he had it. I just thought that would be pretty cool to have anything you could kind of imagine. Imagination was always a big thing for me."
The actor, who's previously given voice to Wonder Woman's beau Steve Trevor and the Golden Age crimebuster The Vigilante for other animated projects in the DC Universe, says his childhood groomed him to play powerful protectors.
"I always thought I had an overdeveloped sense of justice," he explains. "Now looking back on my comic book days, my world kind of was formed around comic book justice. I think I have a very strong sense of comic book justice. Maybe that has something to do with how you take on a role. I mean, I'm steeped in the history of these characters. I know it and I love it."
"I love being part of this lore," he continues. "These are great characters – all these wonderful pieces of American pop culture. And now I've got a little piece. I can say, 'Oh yeah, I was Green Lantern for a DVD movie." Not a lot of people can say that. 'Oh, Steve Trevor? Funny you should mention him…' It may sound silly, but it means something to me."
And while he left his lime Lifesavers at home, Fillion – who two years ago was inserted into a virally popular "Green Lantern "trailer" made by a fan with editing skills – did get into character for the recording sessions. "Debbie Zoller is the head of my makeup department on 'Castle.,'" he reveals. "She saw that fan-made Green Lantern trailer and thought the t-shirt would be an appropriate Christmas present, and I wholeheartedly agree with her. I've been known to wear a few superhero shirts – and where better than a Green Lantern recording session to wear it?"