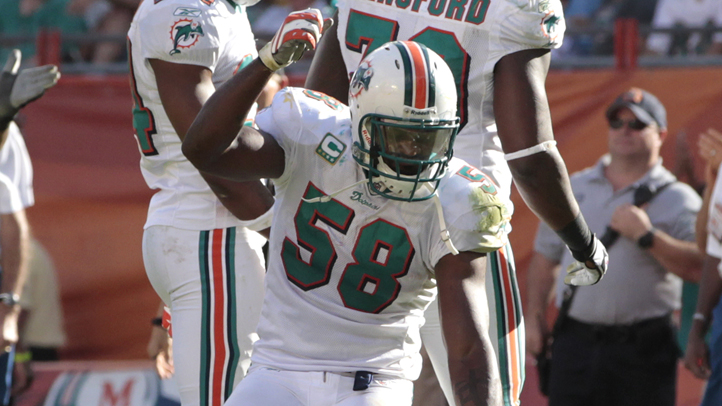 Karlos Dansby expects the best. It's why he called himself the best linebacker midway through the 2011 season. He has once again donned the rosy glasses, saying the Miami Dolphins are in a position to play in their first Super Bowl in almost 30 seasons.
"As a team, I'm expecting us to win the AFC, period. Point blank," Dansby told the Sun Sentinel on Friday. "We've got the talent. We have the coaching. We've just got to put it all together."
Does Dansby really think the Dolphins can win the AFC despite having no Pro Bowl-caliber wide receivers and Matt Moore at quarterback? "It's going to be a challenge, no doubt," he said. "But that's what you live for."
The Dolphins have not posted a winning record since 2008, and this offseason traded away their best offensive player, Brandon Marshall. A better-than-average defense has been held back by a sometimes comically-inept offense, a trend which could repeat itself this year unless one of the Dolphins placeholder quarterbacks can hold down the fort while Ryan Tannehill spends a season learning on the bench.
Even if the Dolphins improve, they still have to overcome the New England Patriots and New York Jets in the their own division, much less the rest of the AFC. Turnarounds like that do not happen often, though the San Francisco 49ers just appeared in the NFC Championship game a year removed from a 6-10 season.
Dansby will probably end up being the only person predicting Miami to go from 6-10 to AFC Champion in 2012. He tends to look on the bright side of things, like when he said last season the team's early struggles gave them the character to will themselves to some unimportant wins later in the year.
But don't tell Dansby the Dolphins could be in for a long 2012 season. Last time someone mentioned how disappointing a season was going, he got a little cranky.